During the bleakest days of WW2, five battled-hardened soldiers are given a cake assignment; to hold down a Chateau in the French countryside formerly used by the Nazi high command. What begins as an unexpected respite quickly descends into madness when they encounter an enemy far more terrifying than anything seen on the battlefield.
Cut off from contact with the outside world, Lieutenant Goodson and his men begin experiencing inexplicable events and are taunted by malevolent unseen forces. Something is occupying the house; an evil that will not let them leave alive. The soldiers eventually uncover that they are being hunted by the Helwig family, the original residents who were brutally slaughtered by the Nazis and are now seeking vengeance for their family's gruesome slaughter.
When the die-hard soldiers' skillsets are rendered useless in the face of this supernatural enemy, their last-ditch attempts to escape lead to the discovery that they are trapped in a twisted night-mare where the sins of their own crimes returning upon them may be more unbearable than the evil lurking within.
AVAILABLE ON DIRECTV: June 18, 2020
IN THEATERS, ON DEMAND AND DIGITAL: July 17, 2020
Director Eric Bress had this to say about the making of the film:
"'Ghosts of War' was my way of trying to give to an audience something that can't be explained to them, but a feeling. A visceral experience… I felt the best way to convey the experience of P.T.S.D. was to put our characters inside a horror movie. A waking nightmare. And create confusion, disorientation, jumpiness, making you startle at meaningless bangs, slowly immersing you into a state of dread and terror that would represent what it's like for a traumatized veteran.
there was a lot of story to tell, and I wanted to add a sci-fi twist to explain the unfolding mysteries of the film and the enemies who are haunting our heroes. To somehow make it a real-world, grounded movie… but with ghosts. So, with a lot to do and a short time in which to do it, I wanted to be, as Steven Spielberg said, "as subtle as a sledgehammer." So I created trope characters that an audience would be able to easily identify and run with. A selfless hero named Chris Goodson, as in Christ-Good-Son. That shouldn't be hard to figure out. Witha bookish know-it-all named Eugene (which as not quite as reaching as Chauncey or Poindexter, but still…) and a musclebound non-thinker named Butchie. Not going for subtlety here. I wanted to quickly introduce them in a familiar you've-seen-this-before Saving Private Ryan way within the first ten minutes to make the audience really feel like they know these guys before they arrive at the mansion where things unravel into the surreal.
I was incredibly lucky with the casting. Most of these actors grew up in front of the camera or in theater and had already worked with the best directors around. While I didn't have as much experience as some of these more prolific directors, my advantage was that I was the writer as well. I had answers for any question that could possibly come up. Long backstories for each character that had to cover two timelines and identities, what each action and subconscious intent they were taking in 1944 had to correspond with a more subliminal event that had happened in their real-world characters' pasts. As a writer, it would have been near impossible for me to explain to some hired-gun director, "Oh but you see, when he's picking up that coffee cup, he's really being triggered about something that happened in this alternate reality…" It gets layered. Dense even. But it allowed me to pour myself into the nuanced performances that would work for the first-time viewers, as well as the second time viewers who would watch the film completely differently knowing the big twist. Every one of these actors was up for the challenge and late night discussions talking through the scenes to be shot the next day, and what's behind the scene behind the scene.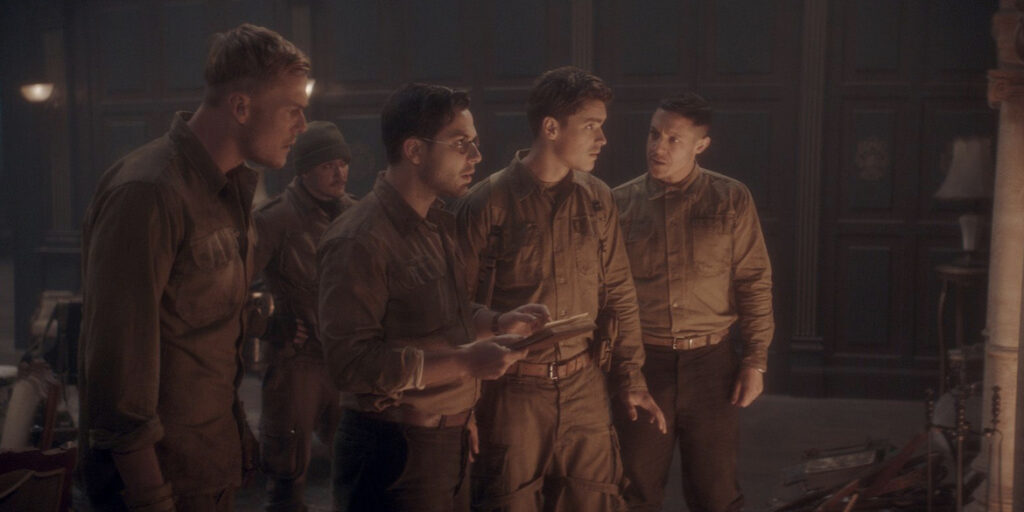 Then enters the film craft. I was able to work with an extremely talented crew. Working with the gifted cinematographer, Lorenzo Senatore, and prolific composer Michael Suby, we would shape the aesthetic of the film to best replicate what I was going after. Some scenes were to be shot verite, handheld, to capture the naturo-realism of war like a documentary. Others, as the haunted mansion grew more powerful, needed to be shot as if the camera itself were omnipotent in the way that The Shining gives the Overlook Hotel a powerful undercurrent of dread. The challenge was that the bridge between these two worlds needed to be subtle and seemless so we don't notice the cinematic transition as it happens. The score follows a similar structure. We begin the film with orchestral pieces, full of brass, the way a traditional World War 2 movie should feel, to pull the audience into a familiar world they are comfortable with. And then slowly introduce inorganic instruments and electric analog pads to make up the canvas on which some real instruments would remain. And by the end, as we find ourselves in a synthetic world, all of the sounds, both in score and sound design are unfamiliar.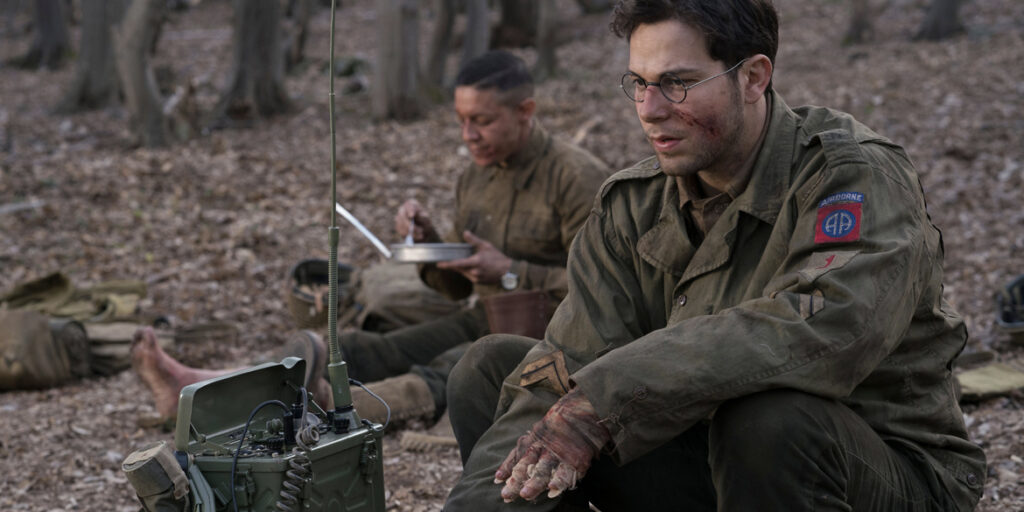 Yet before any of that had begun, we decided to shoot the film in budget-friendly Bulgaria where we could build a 1940's French Chateau from the ground up, rather than try to find a mansion in British Columbia with a kitchen and plumbing that hadn't been remodeled for eighty years. Antonello Rubino, the production designer, built the entire bottom floor of a mansion, including guest quarters, just so I could have a single tracking shot early in the film that would take you through the entire mansion and establish its geography. And another benefit of shooting in Sofia, Bulgaria at the Millennium Film stages was all the easy access to authentic weaponry, military vehicles and uniforms they had at their disposal to greatly aid the prep phase.
A lot of amazing people collaborated on this film, giving me an opportunity to make a cinematic statement about the suffering of veterans without you ever seeing the soap box I was standing on. I also felt the horror genre had gotten stale, with so many movies about an innocent family in a haunted house. I wanted to take it to a new place by making our heroes battle-weary soldiers who are nonetheless still powerless against supernatural forces and also have fun with the reality that, unlike modern millennials, these hardened men of the 1940s would likely never say out loud that they were seeing things in the first place."
'Ghosts of War' stars the ensemble cast of Brenton Thwaites (The Giver, Pirates of the Caribbean: Dead Men Tell No Tales), Alan Ritchson (The Hunger Games: Catching Fire, Teenage Mutant Ninja Turtles series), Skylar Astin ("Zoey's Extraordinary Playlist," Pitch Perfect series), Theo Rossi ("Luke Cage," "Sons of Anarchy"), Kyle Gallner (American Sniper, The Finest Hour), Billy Zane (Titanic, Dead Calm) and Shaun Toub ("Homeland," Crash). The film is the directorial sophomore film for screenwriter Eric Bress (The Butterfly Effect, The Final Destination).