New Screening Platform from Kino Lorber Strikes First Deal with Good Deed's Cranked Up Films.
 
Supernatural Comedy Available via Kino Marquee April 3!
Cranked Up Films,
the genre-leaning arm of
Good Deed Entertainment
, announced today that they have partnered with
Kino Lorber
to continue with the theatrical expansion of supernatural comedy,
EXTRA ORDINARY
via the arthouse distributor's newly launched
Kino Marquee Virtual Theatrical Exhibition
platform. We were lucky enough to catch this at
SXSW
last year and loved the film so much we brought it to
Panic Fest 2020
this past January where it won the
Downright Creepy Audience Choice Award!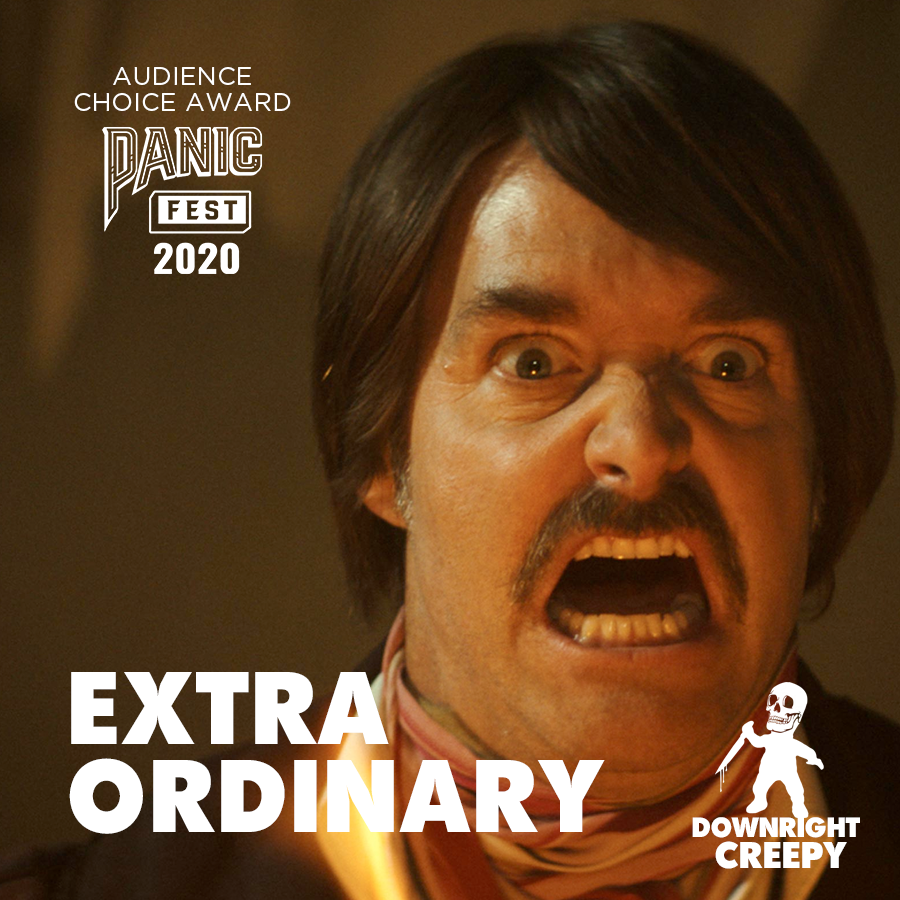 Extra Ordinary
, which started its theatrical launch in non-exclusive partnership with
Alamo Drafthouse Cinemas
, to much critical and audience fanfare, can now reach audiences across the US in the comfort of their homes while still supporting local cinemas beginning April 3.
Tickets can be purchased through the continually expanding list of 150+ theatrical partner sites, including newly announced, Screenland Armour, Alamo Drafthouse and Laemmle Theater chains.
EXTRA ORDINARY, which has been building buzz as an up-and-coming cult classic, follows Rose (Maeve Higgins), a sweet small-town Irish driving instructor, who is gifted with supernatural abilities. Rose tries to ignore the constant spirit-related requests, but when Christian Winter (Will Forte), a washed up rock star who has made a pact with the devil for a return to greatness, puts a spell on a local teenager, her terrified father, Martin Martin (Barry Ward) asks Rose to help save his daughter. Rose has to overcome the fear of her supernatural gift and work with Martin to save the girl, get the guy, and be home in time for a light snack. Filmed on location in Ireland, the debut feature from co-writers and directors Mike Ahern & Enda Loughman, initially opened in theaters on March 6.
"We're thrilled to have the opportunity to partner with Kino Lorber in this exciting new initiative which supports Independent Cinemas while also taking advantage of new, forward-thinking distribution models. In this difficult time, it's important to us to be able to support local businesses while also making independent content readily available to audiences while they're at home,"said Scott Donley, CEO and Founder of Good Deed Entertainment. 
"In extraordinary times what a pleasure to discover a cinematic treat that earns that same name with guffaws. This welcome association with Good Deed furthers the mission of Kino Marquee as a catalyst to keep worthy films on virtual screens, with revenue boost to independent cinemas and an emotional boost for national audiences in dire need of some Extra Ordinary laughs," commented Richard Lorber, Kino Lorber's CEO.
The film stars comic actress Maeve Higgins, an Irish comedian who is contributing writer for The New York Times who has done stand-up all around the world. Her latest book MAEVE IN AMERICA was published by Penguin in 2018. Her podcasts include MAEVE IN AMERICA: IMMIGRATION IRL, and MOTHERS OF INVENTION and also hosts the MY BEST BREAK-UP podcast on HELLO SUNSHINE, the American media company founded by Reese Witherspoon.