When writer and director's Alex H. Fischer and Eleanor Wilson wrote 'Save Yourselves!,' the goal was to take a ridiculous situation and make it feel as realistic as possible. What would we do if aliens were taking over the world and we were holed up in a cabin with no internet? What are our survival skills? (We have none). Would we use the gun in the basement? (Absolutely not). And what the hell will we do when our contact lenses run out? (Cry). And as absurd as the premise seems, it also doesn't feel that far off. Pandemic aside, our planet is of course currently being destroyed (not by cute little aliens and not over the course of a few days) and we're all on our phones arguing about plastic straws and obsessing over how to be better people.
As they started writing the script the metaphors made themselves more and more apparent. The couple in 'Save Yourselves!' are oblivious to the world ending and don't figure it out until it's too late. This is a movie about living a first world life on a dying planet. A comedy!
About the Film
Jack (John Reynolds) and Su (Sunita Mani) are a hip Brooklyn couple who, like many of their friends, find themselves dependent on technology and unable to put down their phones. Fearing their mindless scrolling may impact their connection with each other, they seize the chance to head to an isolated cabin in the woods, vowing to unplug from the outside world for a week. Sheltered from texts and push notifications, they are blissfully unaware that the planet is under attack. As strange events unfold, the couple must figure out a way back to civilization—or what's left of it.
Writer / Directors Alex H. Fischer and Eleanor Wilson had this to say about the film in their Director's Statement: 
"Like the main characters, we are a couple, so a lot of the little relationship details are ripped from our real life: an argument about internet tabs, a song about big soap and little soap, the night terrors. Even the premise is based on a real fear of Eleanor's that if her phone is off, something terrible will happen. When we sat down to write the script, we had a whole collection of things like this to pick from to help the relationship feel specific. Then as the script developed, Jack and Su became less parodies of ourselves and more their own characters.
Casting John Reynolds and Sunita Mani in these roles still feels like the biggest triumph. They are both so charming, and truly feel like a real couple to us. Working with them to get the tone of the film right was very fun – they have incredible comedy chops but are also so natural with their performances which plays well against the insane genre elements. They both come from the same Brooklyn comedy scene (along with some of our supporting cast – John Early, Jo Firestone, Gary Richardson) so they already had a shorthand and could easily make each other laugh. We knew we could do the best we could to write a good script, plan out all the shots, but at the end of the day Sunita and John bring the movie to life.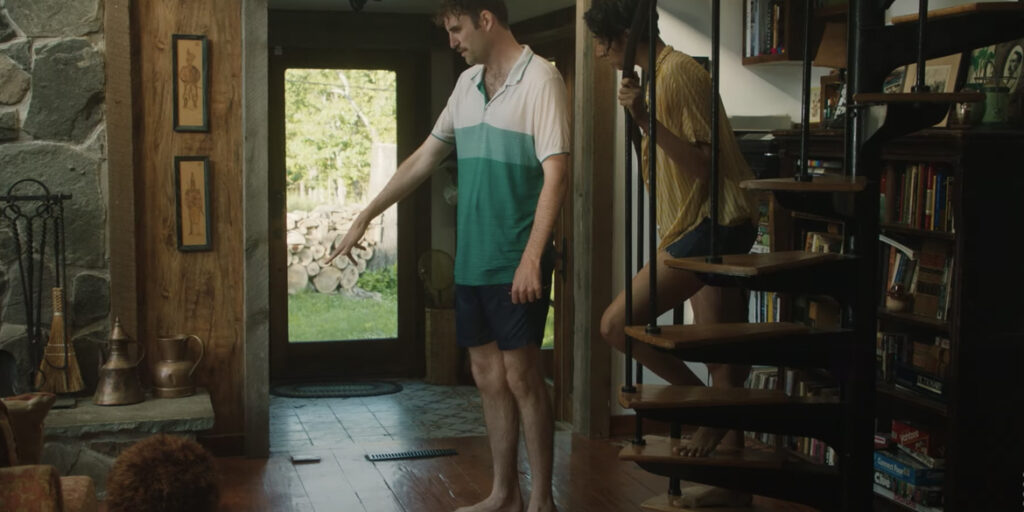 The next big hurdle was pulling off the sci-fi side of the story on an indie budget. We wanted to use practical special effects as much as possible to ground it in reality and to give it a more classic feel. We used some old Hollywood tricks: fishing wire, hidden cuts, Texas switches, forced perspective, projection backgrounds, and our SFX supervisor hid himself in some very uncomfortable places. Then in post, our small but exceptionally talented VFX team played around with the footage to see how we could subtly enhance what was already there. The combined forces of in-camera effects and post VFX became a winning combination – the effects still have a classic tactile look, but also feel alive and surprising.
We hope that audiences watching Save Yourselves! will not only enjoy the absurdity, but also see elements of themselves, perhaps those that they don't want to admit, and more importantly that they can laugh at."
Bleecker Street will release SAVE YOURSELVES! in theaters nationwide on October 2nd, 2020 and on digital October 6th, 2020.