The Fanatic, the latest film by writer/director Fred Durst, has no idea what it wants to be, what it is about, or what tone it wants to take. It is a drifting amalgamation of other movies, ideas, and genres. At one moment it is a charming buddy picture, at other moments it is a dangerous stalker movie, and then it ends up becoming some teetering combination of broken ideas and themes. 
In short, The Fanatic is a mess.
The official synopsis reads as: "Moose (John Travolta) is a rabid movie fan who's obsessed with his favorite celebrity action hero, Hunter Dunbar (Devon Sawa). When cheated out of his opportunity to meet Hunter, Moose gets help from a photographer who knows how to find celebrity homes. When Moose's actions begin to take a darker turn, Dunbar soon finds himself at the mercy of his increasingly dangerous stalker."
In truth, this film barely resembles that description. It may be what this film wanted to be about, but the lack of pacing, consistent tone, and problematic narrative tools, makes this film meander so far from that elevator pitch that it is hard to believe that plot is what is being sold.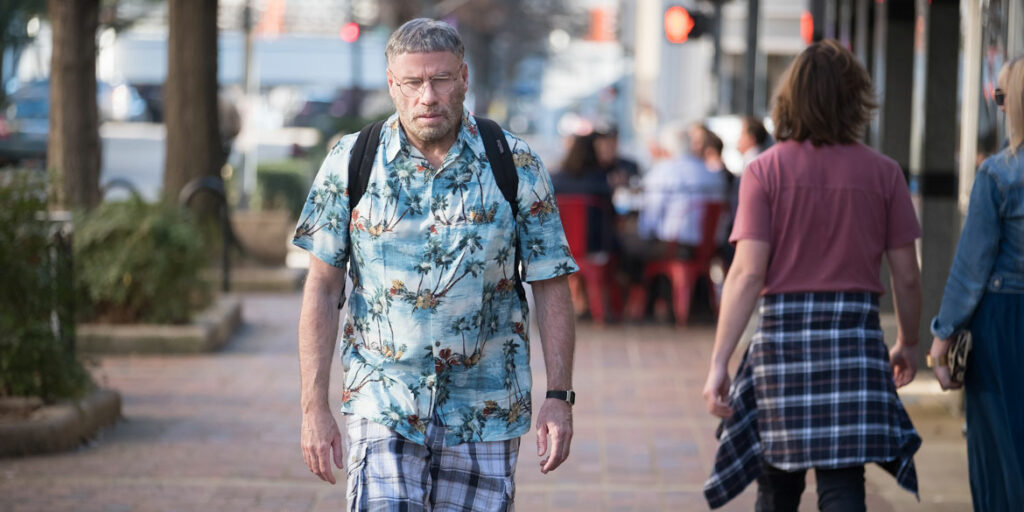 Firstly, Moose never feels dangerous or dark. Partly through John Travolta's problematic portrayal of a man with a mental disability, and partly through the lack of narrative conviction, Moose is never anything but an amplified and cartoonish version of autism as a character flaw. While that fact is off-putting enough, the other narrative logistics are just as shaky and unbelievable. 
For instance, the friendship between Moose and the photographer seems out of place and unexplained. How did these seemingly opposites meet and become friends, why are the enabling each other? No exploration or simple acknowledgment of this dichotomy.
Secondly, Hunter Dunbar seems like more of the threat in the film than Moose. Unlike Moose, Hunter's aggression, selfishness, and coldness make it entirely believable that he is capable of inflicting harm. As mentioned above, Moose, despite the clunky foreshadowing of surrounding characters coaching him to "stand up for yourself", never feels threatening. If he is supposed to be portrayed as a developing villain he is nothing more than the Mr. Magoo of villains; stumbling about accidentally causing harm with no ill-intent.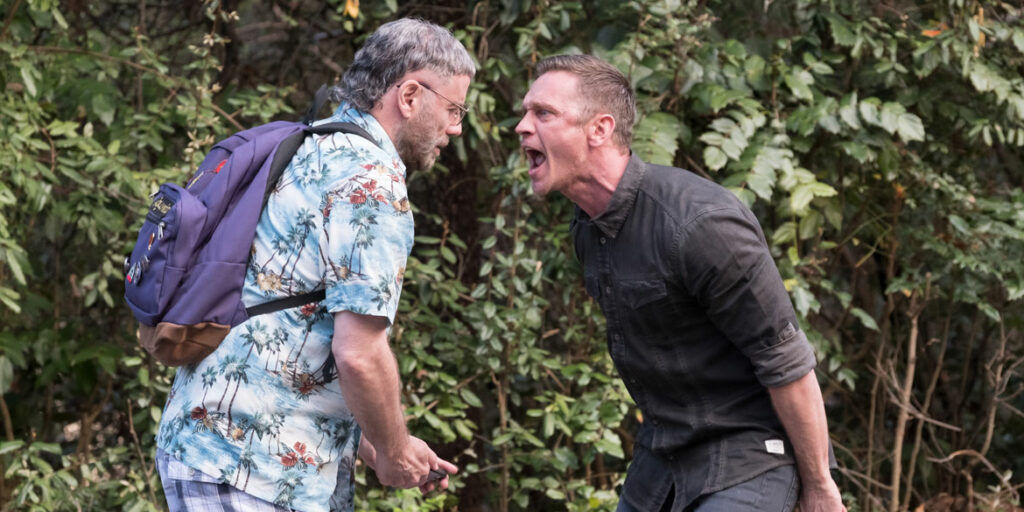 Thirdly and finally, one cannot escape the film's approach of mental illness here. It is both problematic and silly. Moose's assumed autism is played both for laughs and as some explanation of fandom, obsession, and violence. 
Leaving the real-life statistics that mentally challenged people are more likely to be victims of violence than perpetrate it, the portrayal of Moose in the film is so demeaning and laughable that the attempted arc of his character from sweet collector to dangerous stalker never feels believable or threatening. Beyond that, the script itself tries to induce a clever reversal in the climax that defies all character arcs or growth and destroys whatever wavering semblance of a cohesive film that The Fanatic was clinging onto.
What finally results is some narrative fever dream with pieces of 'Taxi Driver', 'Rain Man', 'Misery', and other films. The pieces, though, are just that. They never result in any whole. They never create a narrative that says anything, or even successfully tells a story.
And that's not to mention the disjointed animated sequences and an inexplicable scene where the characters, who are part of a Fred Durst film, take a moment to praise the band Limp Bizkit. 
In short, The Fanatic is a mess.