Let Guru del Toro be your guide into the darkest depths of fantasy! This designer toy by artist Chogrin honors the Maestro of Monsters, who holds countless universes in his hands, claws, and tentacles.
Unruly Industries is a division of Sideshow Toys so you know they produce a quality product. The figure stands at 7″ tall and 3″ wide with a price point of $80. For a designer vinyl toy of this size limited for #400 it is well worth it.
You can also get limited edition versions signed by the artist at Dark Delicacies.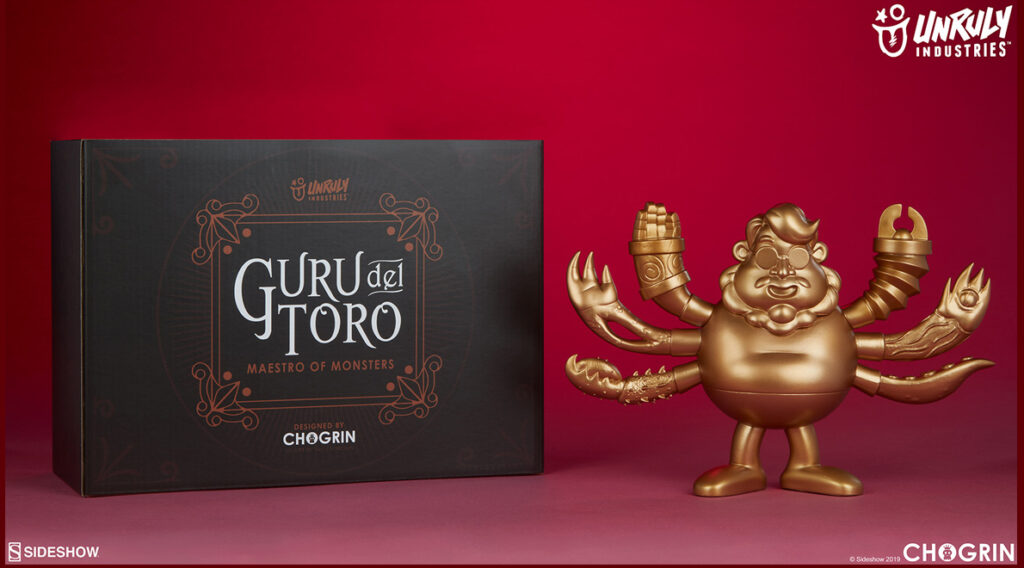 Artist Statement: This figure is based on an illustration I created in tribute to Guillermo del Toro and his filmography.  Guillermo has always been a patron for misunderstood creatures and an inspiration for artists around the world. I wanted to create something that captured all those things in one.  And so, I give you Guru del Toro, Maestro of Monsters!
Artist Bio: Chogrin is an illustrator & storyteller from Guayaquil, Ecuador. His work is inspired by classic American and Japanese cartoons. For the last decade he's worked in the animation industry, as well as having a hand in the pop-culture art gallery scene, personally curating themed art shows around the world. He's currently developing his own animated short film "Lucky Brave's Sunshine," among other original art projects.