Ben Wheatley's new film, 'In the Earth,' had its debut at the Sundance Film Festival earlier this year and is set to have a theatrical release date later this April.
The film is inspired by the pandemic as the world searches for a cure to a disastrous virus, a scientist and park scout venture deep in the forest for a routine equipment run. Through the night, their journey becomes a terrifying voyage through the heart of darkness, the forest coming to life around them.
In a recent interview Ben Wheatley spoke about filming in a pandemic and his approach to filmmaking.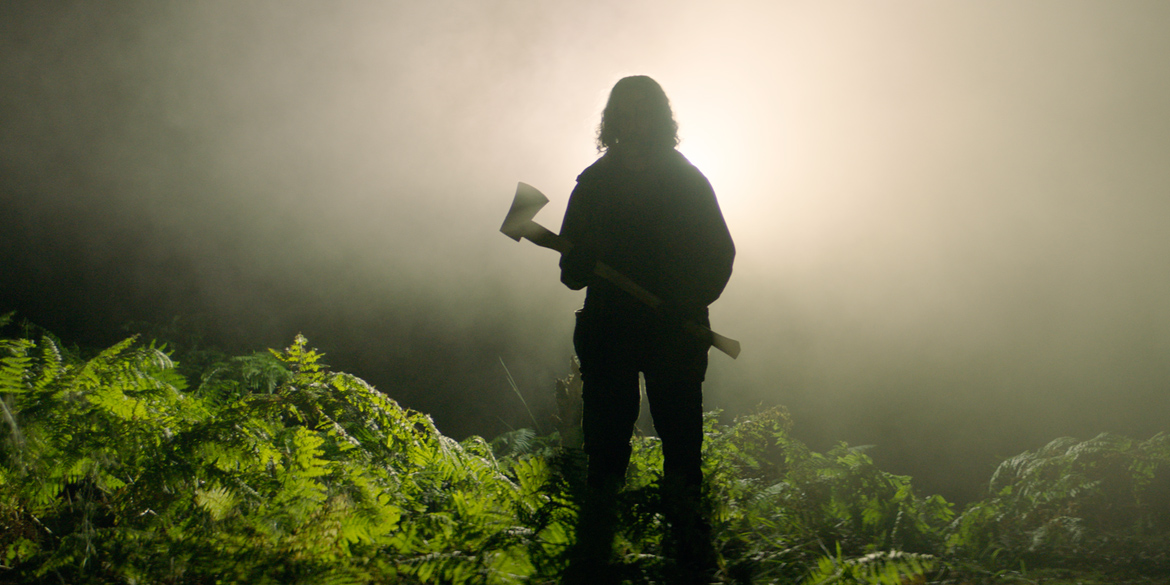 Downright Creepy: 'In the Earth' follows a scientist and a park scout into the forest as a disastrous virus grips the planet… without sounding naive, what inspired this story?

Ben Wheatley:
I wanted to make a film that was contextualized in the moment. Movies I was seeing that had been made but released during the pandemic felt very old-fashioned. No one is talking about what has just happened… Covid is going to mark a generation. It felt like making a film in 1946 and not referencing the fact that everyone had just gone through the second world war. In that retrospect, I wanted to make something that would be immediate. To talk about this moment. I wanted to make something about the experience I was having right now. And I think that is what horror cinema should be. It takes the moment that we are living in and puts it into a genre.
DRC: At what stage of the pandemic did you decide this film needed to be made?
Ben Wheatley: I started writing the screenplay about two weeks into the UK lockdown. It was around March, so right at the start. It's been a weird experience making the movie because it projects into the future, but the future keeps catching up to the film. It's not the first time that I've made a movie that had a really fast turn around and I find that quite interesting that you can almost go into that Sam Fuller space, where you're ripping movies from the headlines and you're making stuff that does feel like reportage… It's kind of the antidote to the fact that Disney is already planning films for the next 10 years and announcing them. When they do that it can feel like nothing new is ever going to happen.
Given the setting of the film and the need to adhere to new safety precautions, was there any advantage to having a limited crew cast? Do you think it aided the process in any way? A lot of the films I've made have always been pragmatic, and you look at what you have got, and you make the film with the things you have available to you. And certainly, this film was just like that.
You had to be outside because that was the safest environment for everyone to work. So, it was written to be outside.
That wasn't a coincidence! And our budget was modest enough that if we were in a situation where, if one person got sick with covid, that would be the end of the movie. We would be finished. So, we were very careful, everything was very carefully thought out and planned.
DRC: How long was the shoot?
Ben Wheatley: The shoot was for 15 days. One of the things I did before making this film was looking at the production schedule of HALLOWEEN (1978). I think that was 20 days… With inflation, the budget wasn't much different either.
The genre dictates itself by budget, The movies they were making then are not much money and did not take much time.
Having more and more money, and more and more time doesn't necessarily make things better and better. I think genre cinema should be shot fast with a lean crew and solving problems on the fly, really having to use your imagination… and that becomes a strength to the filmmaking process.
DRC : You yourself are an artist – do you create storyboards for your films? Are your scripts very descriptive?
Ben Wheatley:  No, the scripts I write are not very descriptive. They are more like haikus… There's hardly anything in there but if you're making and shooting your stuff with people around you that know what you're doing and are on your side, then you can write thin scripts in that respect. I do storyboard a lot, but not for this film because storyboarding goes hand in hand with how much you can control the environment you're shooting in.
So, if you draw something and go 'I want this room to be this shape to make this shot work' that's brilliant, but if you can't control that room, then you can't achieve the drawing and then you're thinking about two things at once rather than being in the current space and time, trying to actually make it work.
DRC: What interested you in writing these kinds of characters and how did they evolve from the project's conception to completion?
Ben Wheatley: I wanted human characters that were skilled. They weren't useless; they had skill sets that were very different from each other. And you can believe that they would be able to do the things that they do but they weren't necessarily super tough… or wouldn't react in a way that you or I might react to being in that situation…
You'd be scared quite quickly and irrational, I know I would be in that situation. It was important to have that.
In the other movies I've made, a lot of them have been about non-genre characters being in genre situations so you feel that there is a bit more to them. They are not straight up tropes. I wanted you to understand them a bit more because you know that they are human.
It was kind of us thinking of ideas about folk, horror, and about the construction of myth… There is always a seed of truth in it somewhere but the trapping around it may be absolute nonsense… In this movie, there's a lot of different perspectives on this thing they can't understand. That was the main idea; that there would be something almost alien that they are trying to come to an understanding with and they move towards that everybody making up lots of reasons and excuses for what it is.
Are the characters creatures of the mechanics of the plot or are they real people that have to deal with a set of situations. So that's the difference in writing.
DRC: Can you talk about the soundscape of the film? We come to learn that the forest has a voice of its own… How did you and sound mixer Rob Entwistle develop this unique dialect?
Ben Wheatley: At the beginning of the process, it was thinking about the film as a medium of light and sound and is there a way of writing something where light and sound are a feature of it. Also, bringing forward the lighting like strobe lights and music into the movie so they were actually legitimately there. It's something that was written into the actual fabric of the movie so I could have those sequences.
The fact that the "Dr. Wendle" character is actually playing music for half the movie and that kind of released Clint so that he can know his music is going to be at the forefront. Not like the score is going to be an underscore, underneath a load of dialogue just to make things tenser, it's actually going to be its own character. At the front. Leading the film.
Rob Entwistle and Martin [Pavey, sound designer] had quite a lot of conversations about how we wanted it to work. There's a certain amount of experimentation where all the sound design and even the full score was played back in the woods and then re-recorded off the trees. Then there was the imagery, which was shot through tanks of water with fruit dye and projections… That kind of formal experimentation is allowed within the structure of the script itself and I wanted to have that right from the beginning.
The film stars Joel Fry, Ellora Torchia, Hayley Squires, Reece Shearsmith, John Hollingworth, Mark Monero and was written and directed by Wheatley.
'In the Earth' will be in theaters April 30,2021.