Here's some news that's both unexpected and more than a little confusing. Apparently the upcoming (and hotly anticipated) Swamp Thing series is getting a shorter order than initially planned. That is to say that production was apparently abruptly stopped Tuesday evening. Crew members were informed that filming would wrap-up with episode ten, from the original plan of thirteen. Things set to enter into a holding pattern, as writers pen a new ending. We use "apparently" above, as there's a murkiness to all of this. Let's dive in.
Late Tuesday evening, two articles popped up online, signaling the news. The first bit of info came via the Wilmington Star News, a local online outlet, where the show was being filled. That was shortly followed up by a similar report from WECT6, the NBC-affiliate in the region. Both pieces were going off of sources from within the crew of the show, expressing both shock and dismay at the development. According to film grants filed to North Carolina, the production was set to spend $85 million dollars, in the region, over the course of this first season. It's unknown how much of that money had been spent, to date.
The next wrinkle in all of this, occurred earlier this morning. Virgina Madsen ( ), who had been cast as Maria Sunderland, shared the Star News link via Facebook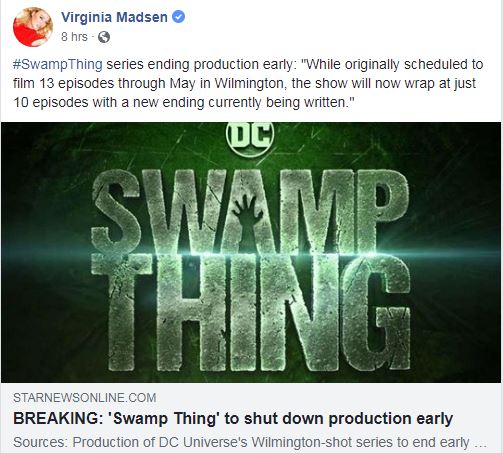 She also took to Instagram to express her dismay at the decision, in a now deleted post (though the same image and words remain on Facebook):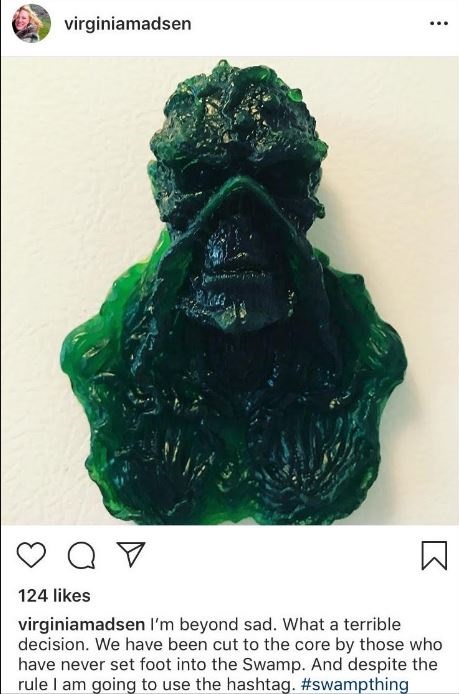 Perhaps the wildest piece to all this, is the reason for the halting, in the first place. The Star News article above cites that Warner Bros put the order out, as it "evaluates the future of its DC Universe streaming service". If that turns out to be true, it's very very very big news. The platform has only existed for 7 months, launching back on September 15, 2018. While only two new live-action shows have been released on the service (Titans, Doom Patrol), a lot of money had been invested into its future slate. Just last month at WonderCon, DC gave updates on Stargirl, season two of Titans and the Kaley Cuoco-led animated Harley Quinn series. What becomes of their respective futures, is anyone's guess at this time.
With the sudden and surprising news that's trickled out over the last few hours, this doesn't feel over. At some point (hopefully soon) Warner Bros or DC needs to release a statement. Just yesterday DC Universe was touting coming to Xbox, next week. Time will tell if that still happens. As of now, Swamp Thing, in it's truncated 10-episode series, is slated to premiere on May 31.
We'll update you, the second we know more on this story.