Notice
: Trying to access array offset on value of type bool in
/var/www/wp-content/plugins/lets-review/admin/class-aqua-resizer.php
on line
119
Notice
: Trying to access array offset on value of type bool in
/var/www/wp-content/plugins/lets-review/admin/class-aqua-resizer.php
on line
120
Notice
: Trying to access array offset on value of type bool in
/var/www/wp-content/plugins/lets-review/admin/class-aqua-resizer.php
on line
119
Notice
: Trying to access array offset on value of type bool in
/var/www/wp-content/plugins/lets-review/admin/class-aqua-resizer.php
on line
120
Doom deserves an encyclopedia.  It's history is rich and storied.  Over the nearly 30 years since its inception, few franchises have the same mystique.  But there's no time like the present, so today we're going to talk about Doom: Eternal, the latest (and greatest?) entry in the series.
The graphics in Doom: Eternal are spectacular.  I remember being in high school when Doom 3 came out in 2004 and thinking to myself: "this is it, we've reached the pinnacle, graphics will never get better than this." Oh boy, was I wrong.  And that's not to discredit Doom 3 for being the top of its class back in 2004. It was a destroyer of hardware. It was seemingly impossible to buy a computer powerful enough to handle it. Fast forward to the present and you have incredible textures, lighting, and effects that are beautifully optimized for a range of hardware.  My Ryzen 5 1500x, GTX 1070ti, 16GB DDR4 RAM handled the load brilliantly, and I was able to maintain a flawless 60 frames on high settings. The color scheme really pops, despite a hellish landscape dominated by fiery reds and yellows. The character designs in this game are slightly more cartoonish than in Doom (2016). This might not be to everyone's liking.  Don't get me wrong, the imagery is full-on satanic ghoulishness, but here the edges are softer, and direness is replaced by camp. It's more evocative of earlier games in the series, most notably Doom 2, which it clearly draws most of its inspiration from. To me it strikes the perfect balance of violence and silliness in its design and presentation. You're a kickass space marine absolutely annihilating demons, how fun is that?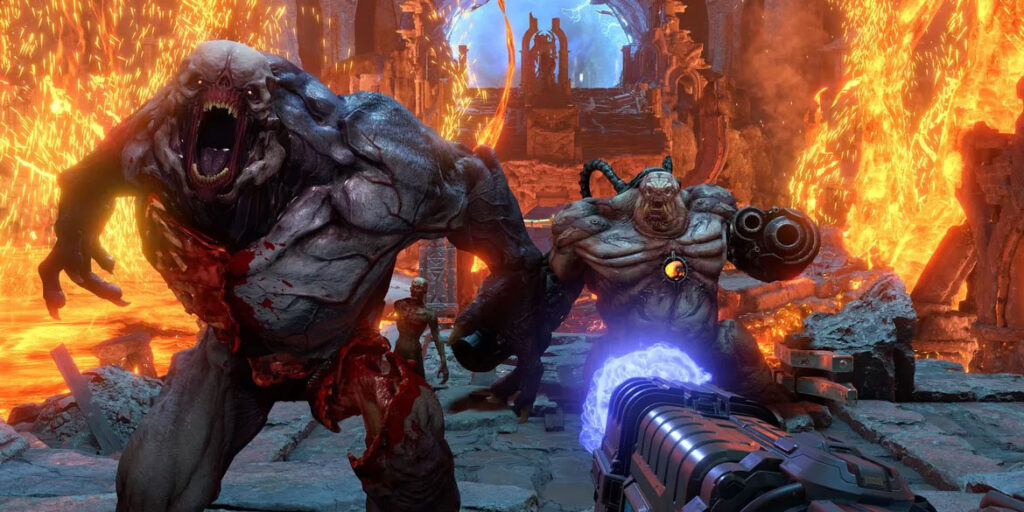 I've never heard a better gaming soundtrack than Doom: Eternal.  Composer Mick Gordon absolutely crushes it. IGN released an exclusive behind-the-scenes look into its production.  Gordon assembled a heavy metal choir, full of musicians from various heavy metal outfits, displaying an incredible amount of range.  The chugging riffs and electronic components sound like if your PC sold its soul to Satan, learned how to play guitar, and then dove head (monitor?) first into a wood chipper.  Yep, kind of like that. A good soundtrack makes you emotionally invested in a game, and here it makes you feel like doomguy, an unstoppable force of destruction.  Other times, with an ominous choir in the background you feel the weight and gravity of a cultists temple surrounding you in sin.  It's glorious. In addition to the soundtrack the sound design is top notch. The guns are punchy and weighty. There's nothing quite like landing a meathook and following it up with a super shotgun blast into a demon's fleshy face.
None of this would matter if the game wasn't fun to play.  But it is. While it's obviously a first-person shooter at its core, the platforming element present is creative and a welcome respite from the gauntlet of demons thrown your way.  The game thrives in its "arenas," large playground obstacle courses where most of the fighting takes place. The game's lightning-fast pace could easily be hampered by poor level design, but the developers did a great job balancing the terrain and giving you options to fend off the seemingly impossible.  Speaking of, this game is tough.  In order to succeed on Ultra-Nightmare difficulty and above you're forced to adopt the dance of a violent ballet dancer, sniping enemy weak spots, performing sick finishing moves for extra health, and ripping and tearing with your chainsaw to restock your ammo.  While Doom (2016) began to get repetitive with its shoot-anyone-with-anything approach, Doom: Eternal forces you to carefully consider your weapon to be as efficient as possible. This extra level of strategy enhances combat and keeps it fresh. Similarly, the levels have enough variety to keep it interesting.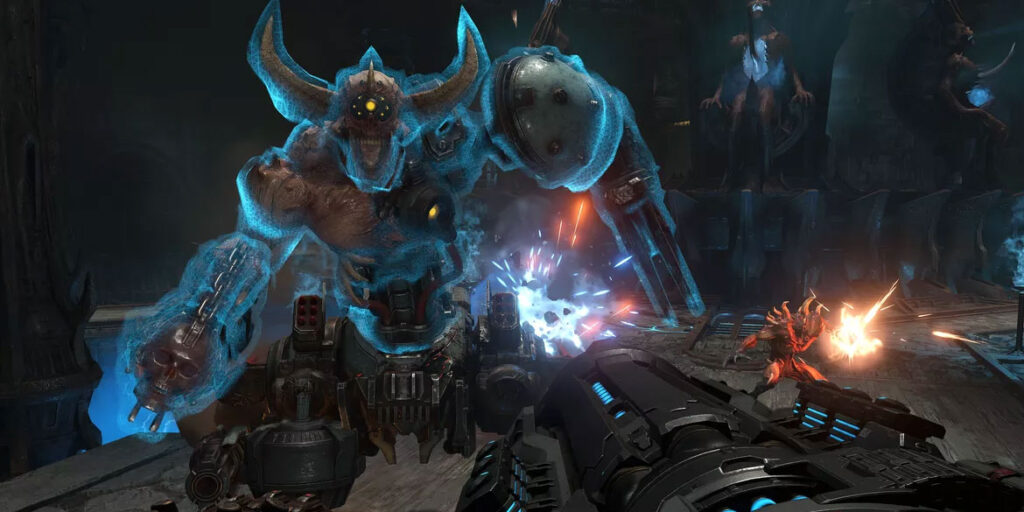 The only quibble I have with Doom: Eternal is its multi-player, or lack of one.  Id Software included an asymmetrical "Battle Mode," which pits two players as demons against one doomguy.  The doomguy is still the near unstoppable juggernaut he is in the campaign, while the demons must work together, creating obstacles and blocking access to health and ammo in order to take down the slayer.  Admittedly, I haven't spent enough time in this game mode to give it a proper review. The few times I've played it I got absolutely obliterated by twitchy FPS professionals and I couldn't keep up. It was a bold decision to limit the multiplayer exclusively to an untested game mode, and while I think that's commendable and I believe in its potential, I think it was an oversight to not include something as simple as team deathmatch.  My guess is that will come later as the player count inevitably starts to decline.
Overall, Doom: Eternal is a complete success.  It's a fun, challenging, gory good-time and raises the bar for FPS games in the future.  The campaign is brutal, varied, and interesting. The graphics are among the best and brightest, and the sound and soundtrack are without equal.