Your first feature, Scare Me (2020), debuted at Sundance, where it killed. Like Werewolves Within, it was also about isolation, about people snowed in. So what's different this time?
RUBEN: We've got werewolves! [Laughs] No, honestly, I was very reluctant at the prospect of directing what was perceived to be a studio movie. At first, my only perception of Ubisoft was Assassin's Creed and $100 million movies. And coming off my little movie, I didn't feel quite ready for that.
There was a script in place. Mishna Wolff wrote it. I was able to read it before I pitched on the film. Peeling back that first page, I was terrified, worried that the film wasn't going to jump out at me in any way. But it did.
But something changed your mind?
RUBEN: I saw a fit for me right away, mainly because I saw humor there. There was a kinetic vibe to reading it. I was already fantasizing about who in my troupe of actors would be down to clown. It had a Coen brothers kind of irreverence to it, heightened, almost farcical. I was already thinking producorially about the approach. And that's what I pitched them: If you guys want to make a film that feels like The Goonies, Hot Fuzz or Tremors, I'm your guy. And luckily they did.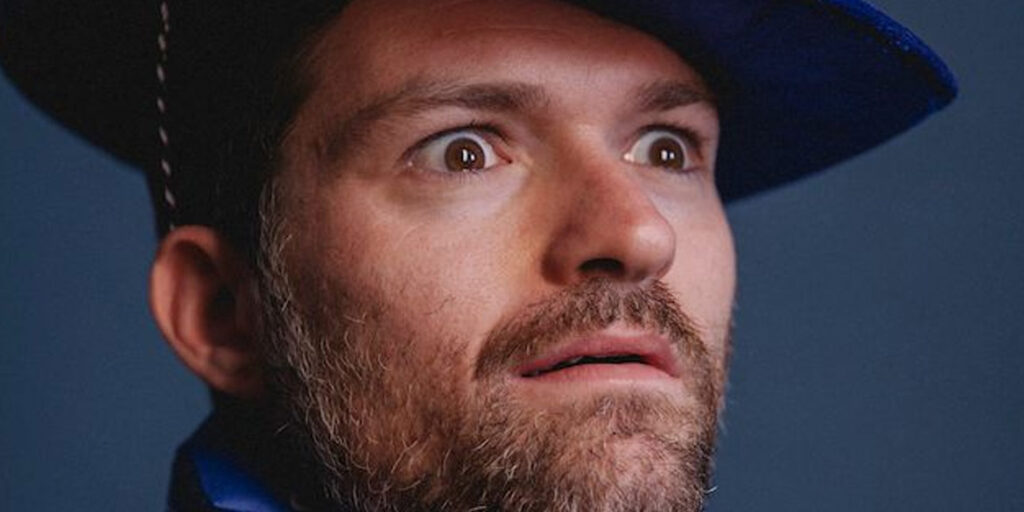 Your horror definitely comes via comedy. Do you think the genre is swinging back in that direction like a pendulum between serious and more comedic? 
RUBEN: I don't think of it as a pendulum so much as a means to a certain kind of ride. You want that ride to be intense the whole way through, the Jurassic Park ride. A little smile here and there. The films that inspired me were everything from the original A Nightmare on Elm Street to Monster Squad, Beetlejuice, Night of the Creeps. I'm such a fool for that VHS era of my life. I loved escapism. I loved Jeff Daniels arguing with himself about which wine not to throw at the tarantula in Arachnophobia, but also being terrified by the tarantula.
I love that scene. You must also like whodunits like Knives Out.
RUBEN: I loved Clue as a kid—to high heaven—but I still don't understand Gosford Park. The color, choreography and pacing of Clue, which did have a gradual unraveling, was something that I could sink my teeth into. I wasn't a huge Agatha Christie fan, but I loved Knives Out. As far as murder mysteries go, if the plotline is wrapped within laugh-out-loud, violent moments, I'm all in. But I was never that much of a puzzle-doer.
Comedians can really make a thriller or horror movie fly.
RUBEN:  Absolutely. An actor like Jeff Daniels, you wouldn't think of seeing him in a horror film. It's criminal how late I saw the original The Taking of Pelham One Two Three, but the fact that you had Walter Matthau and Jerry Stiller going toe to toe with Robert Shaw, I'm inspired by that. I think there's something inherent in me that loves to see actors in roles where you wouldn't expect to see them.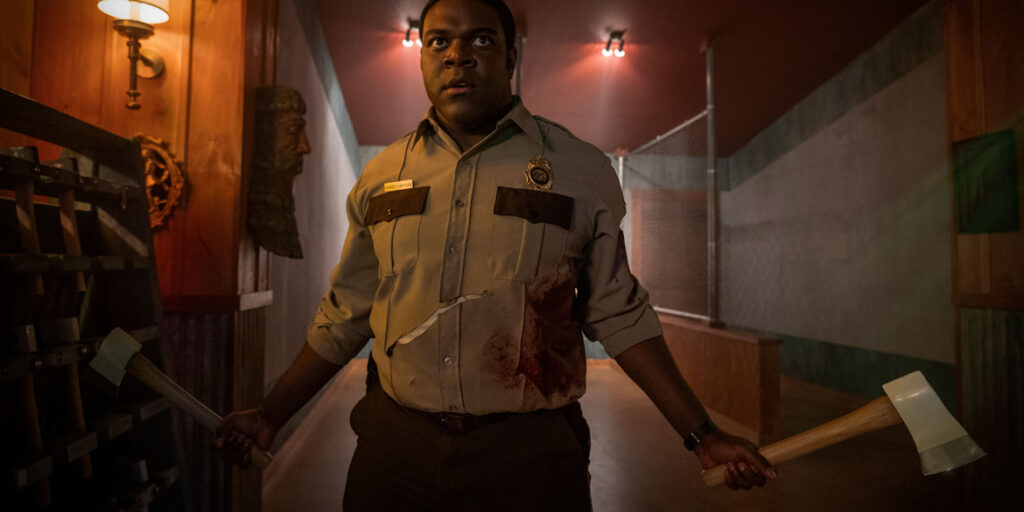 You've done that in Werewolves Within by casting Veep's Sam Richardson as your hero, Finn. He's an actor who's long deserved a leading role.
RUBEN:  As far as approaching Sam, he told me, "I don't usually get opportunities to play this type of character. It's usually the friend or the funny sidekick or the uptight husband." Casting him as Finn sweetened the whole operation for me. I'm so excited for the world to see Sam play the hero. And he nails it.
It's also meaningful that you have a Black actor in the lead. Was that written into the script or was it a matter of your preference?
RUBEN:  That's a great question. No, that wasn't how he was described on the page. But my m.o. from the get-go was: I'm not going to whitewash this film. I grew up in Woodstock, New York. And Woodstock, progressive as it is, is surrounded by less progressive towns. We actually ended up shooting in one of those towns, in and around Fleischmanns, New York. And they are very white. I wanted to lean into that. Let's bring in someone in who also looks like an outsider. We had a myriad of actors that were considering. But it's a responsibility that I feel I need to have from here on out, being in the position that I'm in—a thirtysomething white filmmaker who works in a very white field. Whenever it's appropriate, it doesn't make sense to do otherwise.
Does the script change after you cast progressively like that?
RUBEN:  It's funny—the dialogue doesn't change. Nothing changes. But when we watch it, the context changes. It becomes more profound. Finn's an outsider who didn't grow up in this town. But as a forest ranger, he wants to keep everyone safe and protected, and he's also struggling with his own masculinity. And he wants to respect the dynamics of this town, of people who he doesn't know.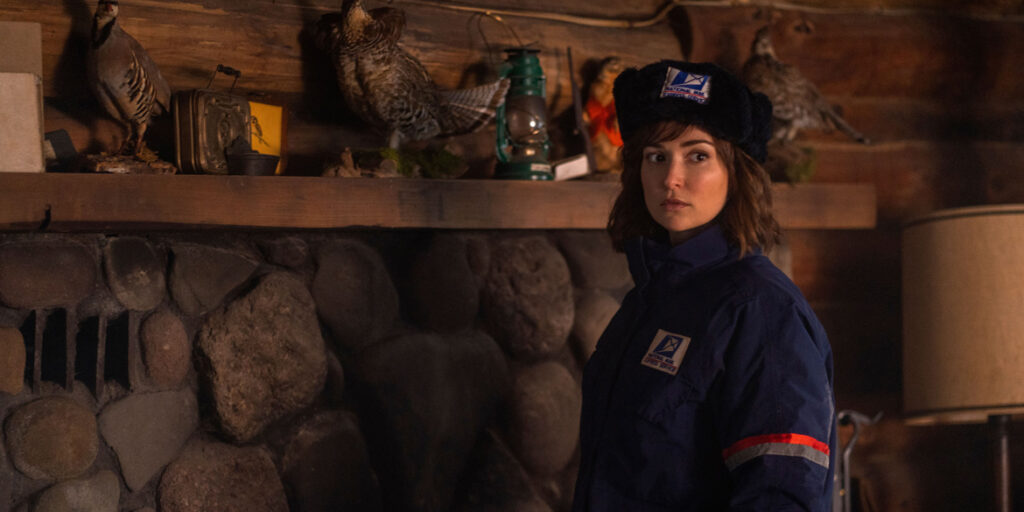 The movie's Beaverfield Inn is almost a character in itself—such a gorgeous piece of setting with the wood paneling and deep shadows and fireplaces.
RUBEN:  That's an actual working inn. Beaverfield Inn is actually a place called Spillian. It's a wedding venue and hotel in Fleischmanns. We shot in February during their off-season. When we walked in, we just knew it was right. It was also great to go back to the Hudson Valley and hire some of my former crew.
Did making two films back to back about people stuck in one location help you survive the lockdown? Did you take well to it?
RUBEN:  I did. What can I say? I'm a Cancer. I like my home life. It felt wonderful to share Six Feet Under with my fiance, who hadn't seen it. To rewatch a show that feels like a darkly comic warm blanket, to poke fun at our own mortality—that was a fun one to revisit.
More seriously, do you think the pandemic has brought us closer to the deeper ideas in your film, ideas about solidarity, fear and community?
RUBEN: I think so. Because not only are we isolated physically, we're forced to face our flaws, our evils, all the crevasses around ourselves. And that's what happens in this film. That's what I feel so much of this year has been. It's been about learning about the BIPOC experience. As a white man in my industry, which is flawed in so many ways, learning about how invaluable it is to speak out when something is wrong, and to be antiracist—that's just one of the many evils we have to face.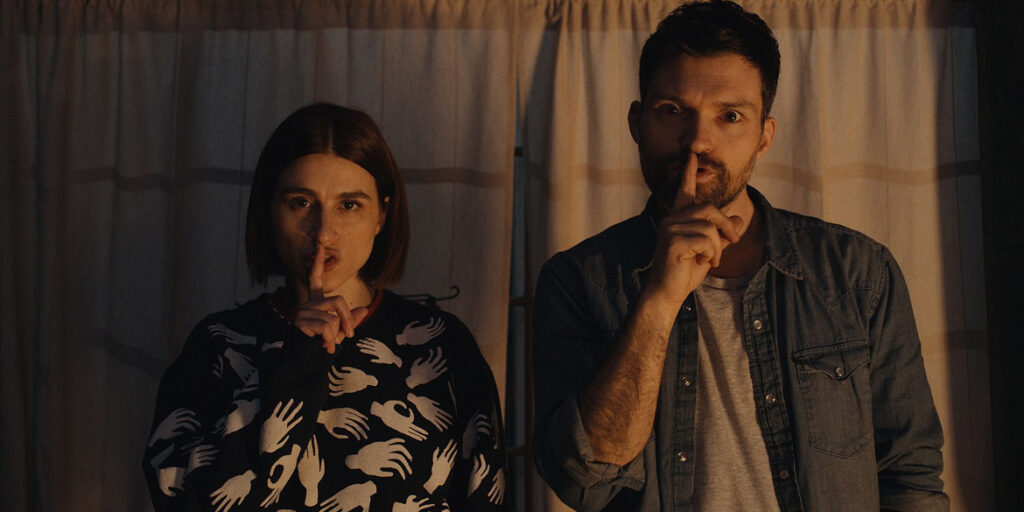 You starred in Scare Me in addition to directing it. Was it nice to give yourself a break for Werewolves Within?
RUBEN:  Yeah, I suppose it was. I think at one point, my manager was like, "You really should play Finn." I told him to fuck off. Can you imagine the vanity I'd need? Everyone loved each other on this cast. It was our winter summer camp.
Do you miss seeing movies in theaters?
RUBEN:  I do. I only had one chance to see my first film in front of an audience and that was at Sundance. Werewolves Within is exactly the type of film that I'd bring my buddies to and laugh at. I do miss audiences—I miss them like crazy. The first date I arranged when I got back home from my shoot was go to Alamo Drafthouse and see The Invisible Man, knowing that the pandemic was impending. That was the last thing I did going into the pandemic. It'll be the first thing I do coming out of it.
'Werewolves Within' will premiere at the Tribeca Film Festival and be in theaters on June 25th & On Demand July 2nd.

Tribeca Film Festival Screenings:
Wednesday, June 16 at 8:00PM ET – Pier 76 in Hudson River Park
Thursday, June 17 at 6:00PM ET – At Home