Housemarque's newest has mostly flown under the radar since being revealed in June of last year. Making a short appearance on Sony's Playstation 5 reveal event, it caught the eyes of horror and sci-fi fans alike. With twenty five years of experience under their belt, Housemarque is literally taking their game to the next level with 'Returnal'.
The studio is no stranger to releasing smash hits, many of the their games have gone down as some of the best twin stick shooters ever made. With games like 'Resogun', 'Super Stardust', and 'Nex Machina', the studio quickly grew a reputation for their specific brand of mayhem. What many in the industry refer to as "bullet hell" games that leave the player with only split seconds to navigate through the often two dimensional space while avoiding a barrage of enemy attacks. This signature style has become a hallmark of the Finnish studios catalog of titles.
Although the studio is making the leap to a third person shooter, the previous style of their games is still a big part of the moment to moment gameplay. One look at the gameplay and you'll realize just how many of those familiar hallmarks have transitioned to 'Returnal'. Keeping the frantic feel of a two dimensional, twin stick shooter, while elevating it to meet todays demands for polished, breathtaking worlds to explore. The game is a melting pot of different systems, some from the studios previous titles, and others that have yet to be realized on this scale.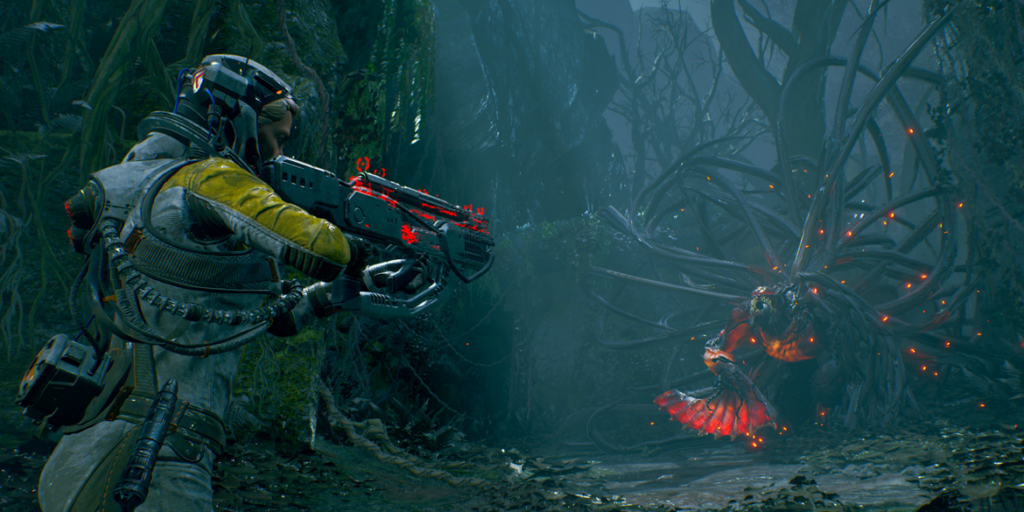 With everything else the game has going on, it is also has roguelike elements. For the uninitiated, roguelikes are a term used to describe games that have procedurally generated levels. In many of these titles, upon dying in the game, the level changes allowing for a different experience after each restart. Some games also change various other elements including weapons, skills, and even the character you're playing as. The bold choice to implement these systems into a beautiful third person shooter could pay off in a big way. Allowing for nearly endless variations on the games alien planet, changing enemies, landscapes, and much more.
Following a mysterious broadcast signal picked up by player character Selene, a deep space scout, which leads her to an unexplored world. Selene sets her sights toward the mysterious planet, Atropos, however her plans unravel following an explosion while orbiting the unmapped planet. Sending her ship and Selene plummeting towards a crash landing on the hostile world. She survives the crash and our adventure begins as she tries to discover the source of the broadcast, as well as a way off of the planet. Selene quickly discovers that something has gone terribly wrong besides the deep space crash, she can no longer die. When the player dies in the game the cycle starts once again, beginning at the crash landing. This is where those bold, roguelike elements begin to take hold.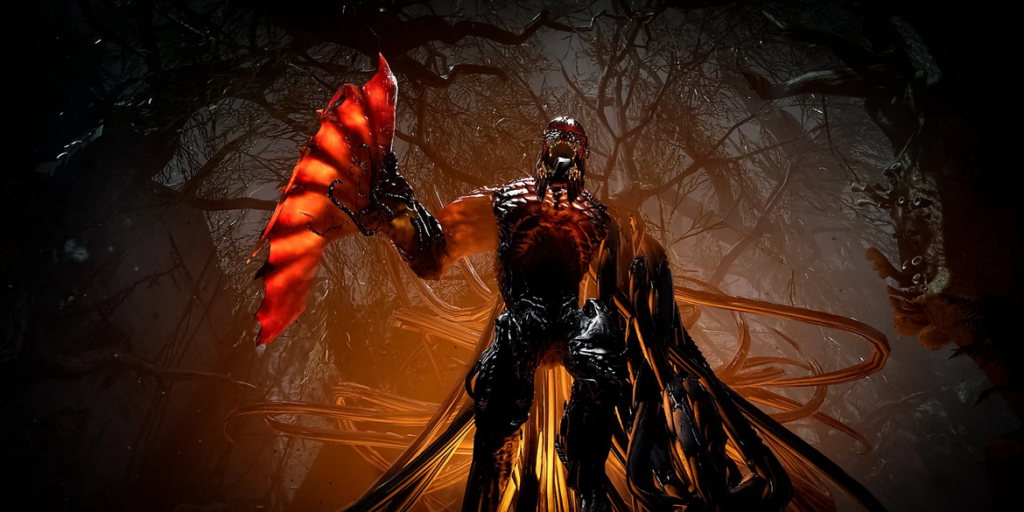 Following each death within the game the planet of Atropos, as well as its hostile inhabitants, change. The planet is split into various different sections known as "biomes" and each death recycles the biomes and the content inside of them. We aren't talking about small changes to the map after each death, we are talking drastic reformations of previous areas you thought you knew. Different enemies and hazards await behind each recycle and it's up to the player to adapt to the ever-changing and violent situation they have been propelled into.
Stuck in the never ending loop of her own death, Selene must adapt to her environment and use every weapon supplied to her. She is a scientist and explorer, not a deep space super soldier, so utilizing every advantage made available to her will be key to survival on this horrifying new planet. The gameplay shows off just how well that frantic "bullet hell" style has transitioned to the third person genre. Selene is outfitted with a jet pack that allows her to traverse the world, along with a grappling hook and dash ability. Making the moment to moment gameplay seem, at least from someone who has not played the game yet, to somewhat resemble Remedy's 'Control'. Quick dashes and movements allow you to stay one step ahead of the incoming barrage of enemy fire.
Selene will be able to use a vast array of weapons she discovers on the planet, some of which will persist between life cycles. She can also implement the planets own horrors to her advantage, with artifacts that supply a buff to the character as well as parasites, which give a risk and reward modifier to Selene. Allowing the character to boost one stat while taking a hit on another. This allows for a great deal of customization to your adventure throughout the hostile and horrifying Atropos.
While Housemarque has stated that you are never far away from a fight with the grotesque inhabitants, 'Returnal' also has explorative, platforming elements as well. Allowing you to take in the breathtaking sights as you try to piece together the mystery that brought you to this planet. Each biome also houses a boss, which upon defeating, will not respawn on subsequent cycles. Giving a feeling of progression to the ever-changing roguelike planet that has you trapped in its never ending cycle.
The psychological horror of 'Returnal' will launch exclusively to the PS5 on April 30th. With 'Resident Evil Village' launching just a week later, spring of 2021 is shaping up to be the season for horror fans. We cannot wait to get our hands on both titles. For all other news, stay tuned to Downright Creepy.