In the horror genre haunted house stories have long leaned heavily on religious themes. From demonic possession stories to unsettled spirits fans can often feel like they are watching the same film over and over as writers have long relied on Christian folklore to torture and redeem their characters. In recent years we've started to see more diversity in storytelling and the latest to enter the ring with Hasidic Jewish characters and demons is 'The Offering' (originally titled Abyzou). As someone who has seen more haunting and possession movies than I can count, this is a breath of fresh air. Anything that gets me Googling a demon I've never heard of to see if it is truly based in an established set of beliefs is always welcome.
What starts as a reconciliation story between Art and his father Saul, soon becomes a study in grief as we are confronted with the eternal question: what would you sacrifice to have more time with those you've lost. For Art, the rift with his father developed after he married Claire who is not Jewish. Saul is a deeply devout Hasidic funeral director who seems ready to put aside his reservations to reconnect with his son and get to know his daughter-in-law before the birth of his first grandchild. While Art may have ulterior motives for organizing the trip back to Borough Park, Brooklyn from California he does seem genuinely interested in rebuilding the relationship with Saul. Unfortunately it won't be that easy. Art is asked to assist with the preparation of a body that has just come into the funeral home, housed the basement of Saul's home, and unwittingly unleashes the demon Abyzou – also known as "the child taker."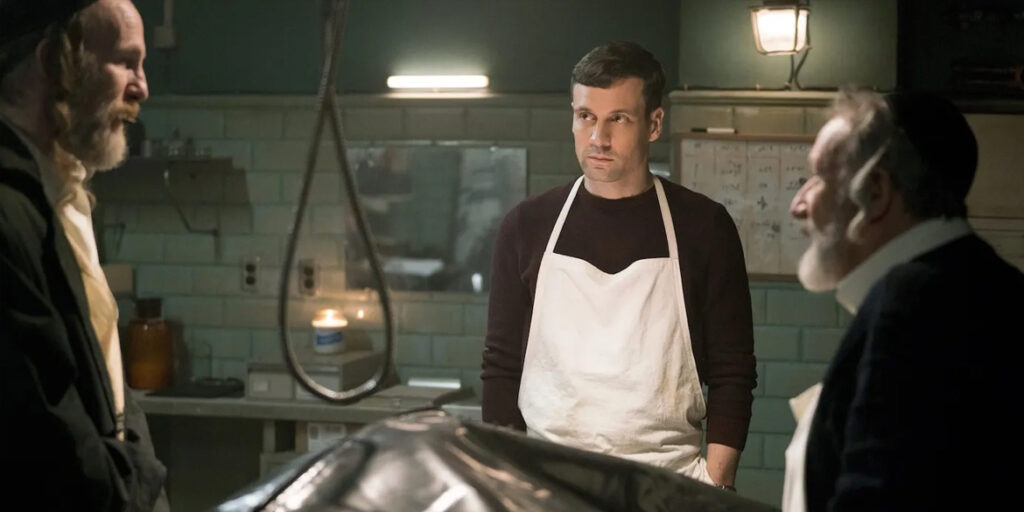 With a mix of well done practical and CGI effects 'The Offering' has a lot of great genuine scares and looks like a big budget theatrical horror movie. While the first glimpse of a ghost was a little underwhelming to me, that misstep is quickly forgotten as the tension builds and the dread piles up. When we get to the demon itself it absolutely pays off in terror. The design of Abyzou is everything you could hope for in a child stealing monster. As far as the surroundings, you really can't beat setting a horror movie in a funeral home. Putting that funeral home in the basement of a historic Brooklyn brownstone makes the most of the combination of beautiful and creepy. This is a first feature for director Oliver Park but his vision is clear and well developed.
Also a first feature for writers Hank Hoffman and Jonathan Yunger the story is a well paced examination of grief. It goes without saying, a lot of loss comes through a funeral home and everyone handles bereavement in their own way – some by accidentally summoning demons that they can't control or appease. The biggest misstep for me in 'The Offering' is the lack of character development. The viewer gets enough to know the basics about each player but not enough to really feel involved in their story. It is unclear who the focus should really be on, at times leaning more on Art, at other times Claire carries more of the story. We don't get sufficient time with any one family member to truly connect. The cast, however, is making the most of what they have to work with. Nick Blood ('Agents of S.H.I.E.L.D.') demonstrates lead actor potential as Art and Emm Wiseman ('Winchester') does well navigating the unfamiliar Jewish traditions as Claire. Rounding out the cast are  Allan Corduner ('Homeland') as Saul and Paul Kaye ('Game of Thrones') who shines as Saul's faithful assistant Hamish. All of these actors could have easily handled roles with a little more meat and even adding a few minutes to the film to bring depth to these characters would have been well worth it. The direction of Park pulls the film past this shortcoming and into something fans of a good haunting need to seek out, solidifying himself as a director to keep an eye on.
'The Offering' had its US Premiere at Fantastic Fest 2022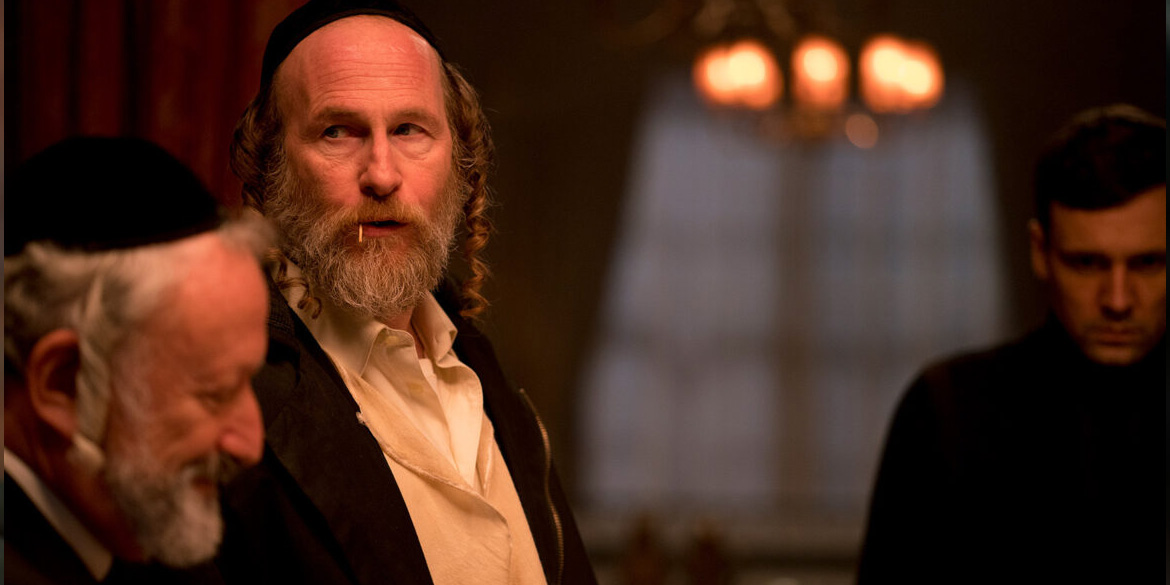 REVIEW: 'The Offering' Is a Study in Grief That Pays Off In Terror