Some movies are simply tailor-made for 2020. It's nearly impossible not to press play on any new release without looking at it through the lens of this year. The most trivial on screen handshakes and sneezes are suddenly thrilling and dangerous. But there are some recent film premises that seem like they were conceived during this pandemic. The small scale horror flick 'Relic' involves a family dealing with an incurable disease. The main characters of the instant smash hit Palm Springs experience the same day again and again.
'She Dies Tomorrow,' a dry witted psychological horror about a contagious force that causes its victims to become absolutely certain that they only have one day left to live, can now be added to that list.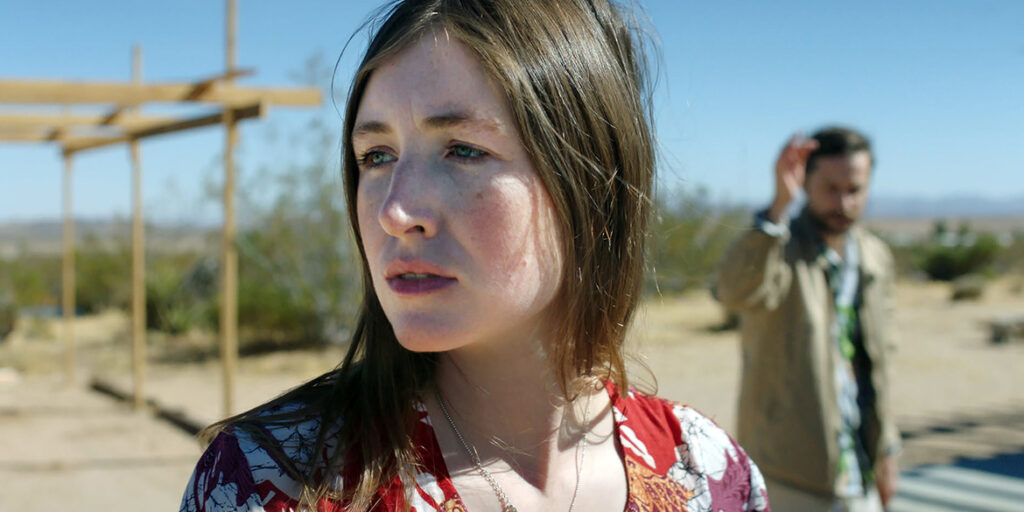 Writer and director Amy Seimetz uses an astonishing amount of patience as she reveals each puzzle piece of her first directorial feature. Mostly known for her acting, she also directed two fantastic episodes of Atlanta in 2018. The film's first act is intentionally uneventful. There is a brief tease at the beginning of a man succumbing to this dread that inhabits him, with the camera peeking through the crack of a door. Then the story immediately shifts to Amy (Kate Lyn-Sheil), waking up with the same idea that she will in fact die tomorrow. There is no hysterical monologue, no weeping, no rage. She actually does very little for several minutes.
Seimetz uses this time like a hypnotist preparing to put a participant to sleep. Amy walks around her house, asks her friend Jane (Jane Adams) to come over, and browses the internet. She even puts a classical song on repeat, manually placing the turntable needle at the beginning of the song as soon as it ends. This stretch of the film is really the make or break period for anyone watching She Dies Tomorrow. Hypnotism never works if the participant isn't willing to meet the hypnotist halfway. Once Seimetz sets the atmosphere, what follows turns this film into one of the most uniquely creative and absurd releases of the year.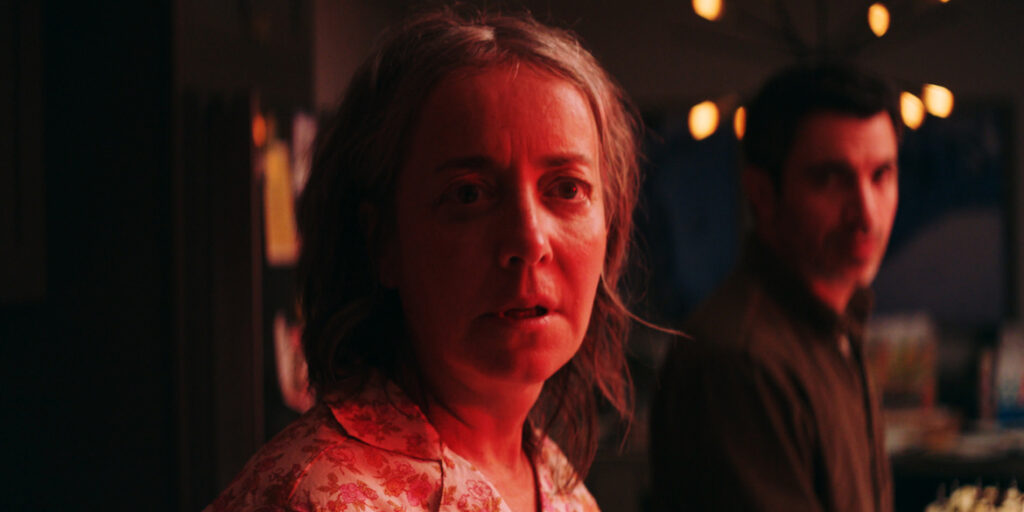 An eclectic ensemble of underappreciated actors all bring a different element to the world Seimetz constructs. Katie Aselton, Chris Messina, Tunde Abedimpe, Josh Lucas, and Michelle Rodriguez show off their comedic talent. The script and the line deliveries are similar to a Yorgos Lanthimos film, specifically 'The Killing of a Sacred Deer.' The jokes are deadpan, almost everything is understated, and the characters say exactly how they're feeling. The world isn't exactly reality, but reality adjacent. As these characters deal with this sense of dread, some realize that only having one day to live can be motivation to be even more honest and frank with each other.
Jane Adams's brilliant wide-eyed paranoia is perfect for her role as the film's second lead. When Jane visits Amy, we discover that Amy was browsing leather jackets online because she wants to be made into one. Her reasoning is that "I want to be useful in death". Jane is the first character we actually see catching this bug with no name. Seimetz visualizes this intangible force as a colorful strobe light. Whenever a new character catches it, they stare at the light blankly (like they're being hypnotized) and deal with the consequences.
Instead of worrying if these characters actually die or not, the film focuses more on how each of them reacts to their fate. In many cases these people are forced to confront a truth that they were running away from. Some embrace this feeling wholeheartedly, some are still coping with serious trauma.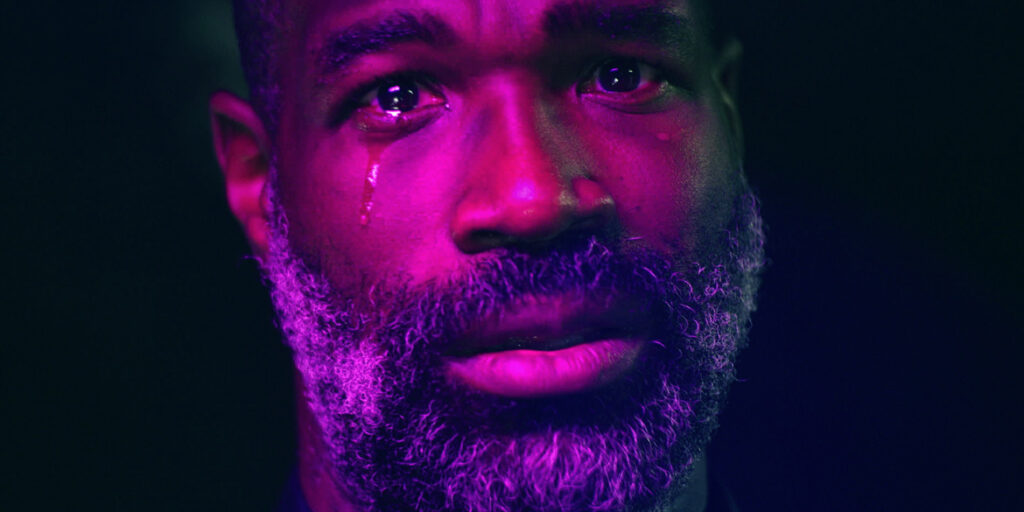 Seimetz intentionally doesn't answer every question and leaves her film up for interpretation. She honestly and earnestly portrays the bleak and the hopeful aspects of this curse. Jane crashes her brother's small party after catching the curse and can't stop telling everyone about her upcoming death. Brian (Abedimpe), replies "Maybe she's right. We all have to die at some point." Seimetz balances the absurd humor with the thoughtful messaging very effectively. Amy and Jane's storylines individually have a mix of both tones.
'She Dies Tomorrow' is an interesting experiment in patient and thoughtful filmmaking. Those who are seeking a nail-biting thrill ride will not find it here. Seimetz keeps her film cruising at the same speed for the entire runtime as her slow burn unfolds. The gradual revealing of information allows the pace to be slower just to keep an audience guessing what the hell is going on. The morbid premise and striking visuals of the spellbound characters contribute to this strange ambience of psychological horror.
Seimetz's ideas about life and death are sincere and unpretentious, and not in a corny "carpe diem" kind of way. In a year like 2020, it's never a bad time to be reminded what actually matters.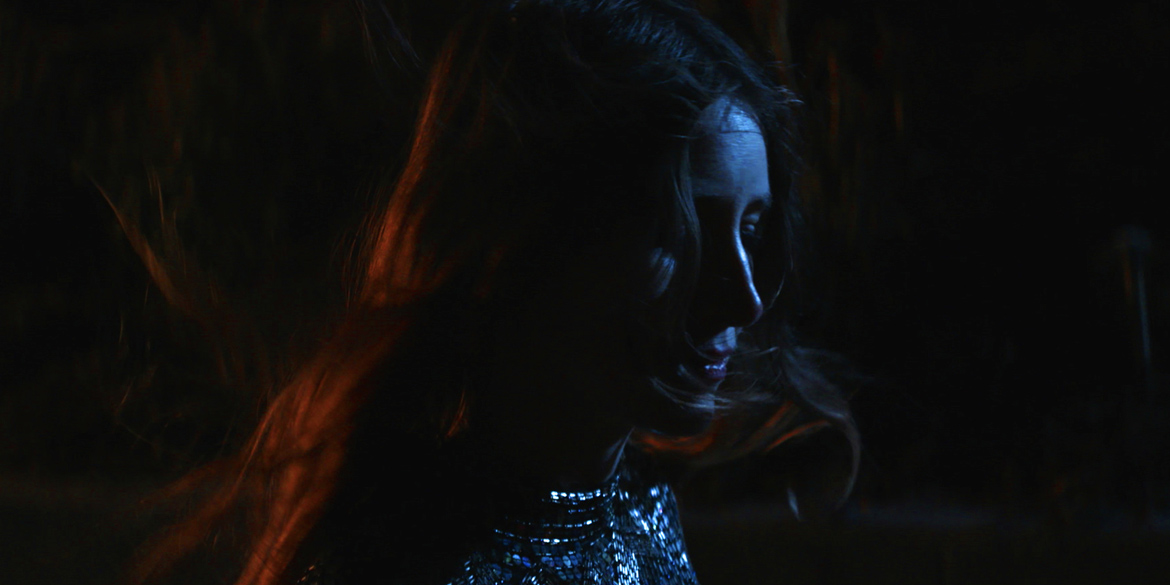 REVIEW: The Hypnotic Horror Comedy 'She Dies Tomorrow' is Tailor Made for 2020