With the pandemic causing us all to change the way we think and interact with people companies and entrepreneurs are thinking of new ways  to entertain us. A couple weeks ago I participated in a virtual escape room online. It was surprisingly more effective than I expected which made me wonder how other experiences like this could be brought to life at home.
Look no further than Coded Chronicles "Escape From the Overlook Hotel Game." This immersive, real-time activity for adrenaline junkies and mystery solvers alike and experience what it's like to flee for your life! The Shining: Escape from the Overlook Hotel puts one or more players in the roles of the unhinged writer's wife and son, Wendy and Danny, who must work together and find a way out of the mysterious resort! This is the perfect time for it too with the 40th anniversary of 'The Shining' taking place this year. You will have your chance to escape the axe wielding Jack Torrance this Fall when it hits shelves.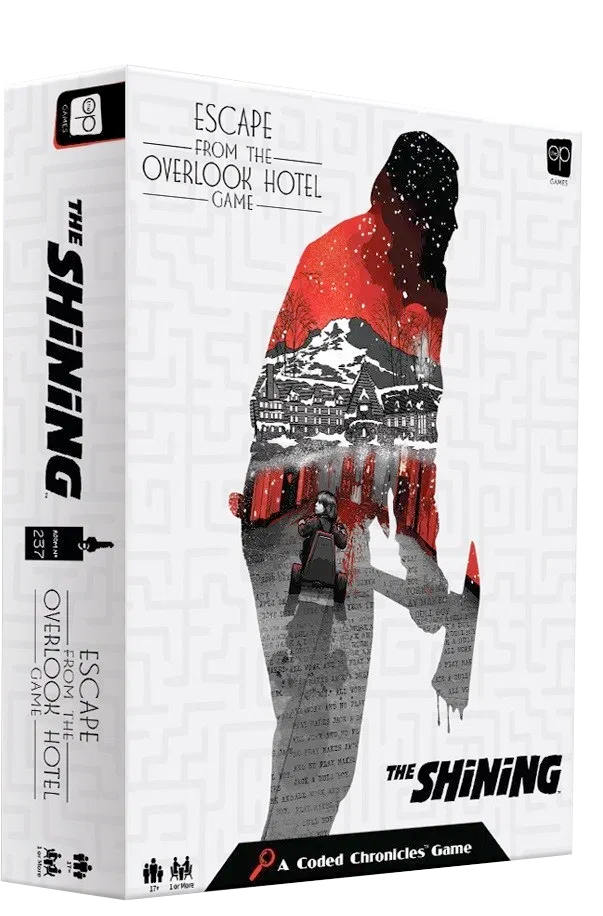 PRESS RELEASE:
Driven by the Coded Chronicles mechanic, which requires you to unlock clues and solve puzzles for unique storytelling codes, the game allows you to use psychic abilities like "the shining" to get through more than two challenging hours of escaping the threat of homicidal Jack and the paranormal hotel itself! Since every Coded Chronicles game is enriched with thematic details and objectives, escaping captivity makes this edition's difficulty level as hard as a dizzying hedge maze (minus the time limit)!
Designed by Jay Cormier and Sen-Foong Lim (Mind MGMT, Belfort), players can anticipate being engaged with every unpredictable turn, thanks to Wendy and Danny's heightened abilities, which allow their characters to investigate with double the intuition as characters from the previous Coded Chronicles edition. Use Wendy's skill of looking and using surrounding objects to get a better hold of helpful items or tap Danny's supernatural "Shining" to reveal hidden clues.