SXSW 2020 is just around the corner and with it comes a fantastic group of films set to take place at Midnight. The acclaimed program draws thousands of fans, filmmakers, press, and industry leaders every year to immerse themselves in the most innovative, smart, and entertaining new films of the year.
The SXSW Midnighters section is a perennial favorite for SXSW audiences thrilled by the weird, electric, and sometimes terrifying selections. Featuring 10 genre films, the slate includes dark comedies, thrillers, Sci-Fi, mystery, and slasher horror from a mix of established and first-time filmmakers. The Midnighters, Festival Favorites, as well as 10 additional films, round out the 135 total features now to be screened at the SXSW 2020 Film Festival.
I am most looking forward to checking out, 'Lucky,' 'PG (Psycho Goreman)' and 'Witch Hunt.' Check out the lineup below and come back for our team coverage of SXSW 2020!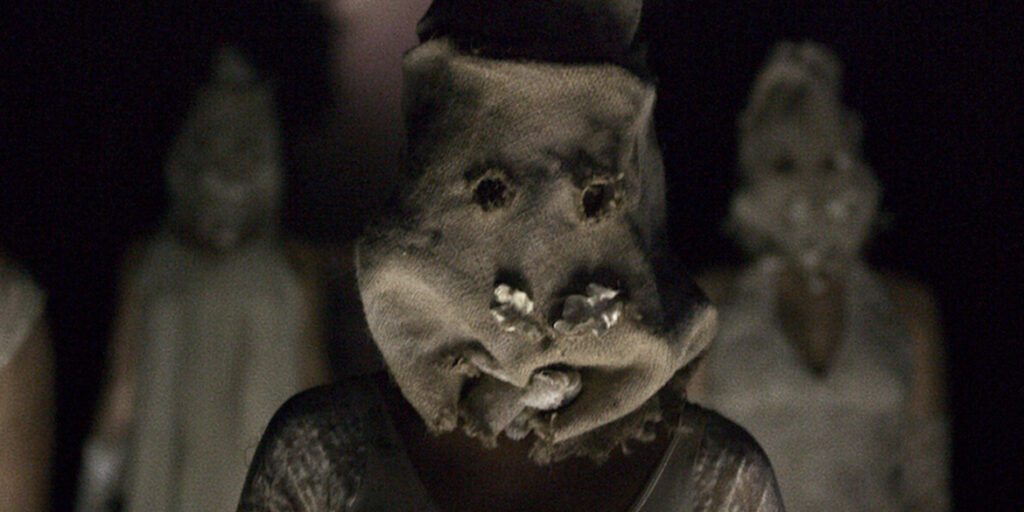 Midnighters
Scary, funny, sexy, controversial – ten provocative after-dark features for night owls and the terminally curious.
Dembanger
Director: John Berardo, Screenwriters: John Berardo, Lindsay LaVanchy, Brian Frager
Ellery Scott's world unravels when her star athlete brother is murdered on campus amidst a brewing scandal, kicking off a spree of social-media-linked slayings that leave her racing alongside the police to uncover the university's hidden secrets. Cast: Jon Huertas, Isabella Gomez, Lindsay LaVanchy, Froy Gutierrez, Gattlin Griffith, Patrick Walker, Bart Johnson, Shireen Lai, with Yancy Butler, and Lochlyn Munro (World Premiere)
Lucky
Director: Natasha Kermani, Screenwriter: Brea Grant
Lucky follows May, a self-help book author with all the answers, who suddenly finds herself stalked by a threatening but elusive masked man, and caught in a struggle to get help from the people around her and maintain control over her own life. Cast: Brea Grant, Hunter C Smith, Kristina Klebe, Leith M. Burke, Dhruv Uday Singh, Yasmine Al-Bustami (World Premiere)
PG (Psycho Goreman) (Canada)
Director/Screenwriter: Steven Kostanski
Siblings Mimi and Luke unwittingly resurrect an ancient alien overlord. Using a magical amulet, they force the monster to obey their childish whims, and accidentally attract a rogues' gallery of intergalactic assassins to small-town suburbia. Cast: Nita-Josée Hanna, Owen Myre, Adam Brooks, Alexis Hancey, Matthew Ninaber, Steven Vlahos, Kristen MacCulloch, Anna Tierney, Kenneth Welsh (World Premiere)
Relic (Australia)
Director: Natalie Erika James, Screenwriters: Natalie Erika James, Christian White
When Edna, the elderly and widowed matriarch of the family, goes missing, her daughter Kay and granddaughter Sam travel to their remote family home to find her. Soon after her return, they start to discover a sinister presence haunting the house and taking control of Edna. Cast: Emily Mortimer, Robyn Nevin, Bella Heathcote
Run Sweetheart Run
Director/Screenwriter: Shana Feste
In Run Sweetheart Run, a blind date turns violent and the woman has to get home on foot through Los Angeles as she's pursued by her date. Cast: Ella Balinska, Pilou Asbaek, Clark Gregg, Aml Ameen, Dayo Okeniyi, Betsy Brandt, Shohreh Aghdashloo
The Silencing
Director: Robin Pront, Screenwriter: Micah Ranum
A reformed hunter living in isolation on a wildlife sanctuary becomes involved in a deadly game of cat and mouse when he and the local Sheriff set out to track a vicious killer who may have kidnapped his daughter years ago. Cast: Nikolaj Coster-Waldau, Annabelle Wallis, Hero FIennes Tiffin, Melanie Scrofano, Shaun Smyth, Zahn McClarnon (World Premiere)
The Toll
Director/Screenwriter: Michael Nader
When a young woman and her rideshare driver break down on a dark forest road, each sees the other as a threat. A strange phenomena begin occurring around them, they gradually realize they've become trapped in the world of a terrifying supernatural being: The Toll Man. Cast: Jordan Hayes, Max Topplin, James McGowan, Rosemary Dunsmore (World Premiere)
The Vigil
Director/Screenwriter: Keith Thomas
A man providing overnight watch to a deceased member of his former Orthodox Jewish community finds himself opposite a malevolent entity, in writer-director Keith Thomas' electrifying feature debut. Cast: Dave Davis, Menashe Lustig, Malky Goldman, Lynn Cohen, Fred Melamed (U.S. Premiere)
Witch Hunt
Director: Elle Callahan
In a modern America where witches are real and witchcraft is illegal, a sheltered teenager must face her own demons and prejudices as she helps two young witches avoid law enforcement and cross the southern border to asylum in Mexico.(World Premiere)
Yummy (Belgium)
Director: Lars Damoiseaux, Screenwriters: Eveline Hagenbeek, Lars Damoiseaux
Yummy is an orgy of blood, violence and fun in which a young couple travels to a shabby Eastern European hospital for cheap plastic surgery, but they get stuck in the middle of a zombie outbreak. Cast: Maaike Neuville, Bart Hollanders, Clara Cleymans, Benjamin Ramon, Tom Audenaert (North American Premiere)
Source: SXSW