Notice
: Trying to access array offset on value of type bool in
/var/www/wp-content/plugins/lets-review/admin/class-aqua-resizer.php
on line
119
Notice
: Trying to access array offset on value of type bool in
/var/www/wp-content/plugins/lets-review/admin/class-aqua-resizer.php
on line
120
Notice
: Trying to access array offset on value of type bool in
/var/www/wp-content/plugins/lets-review/admin/class-aqua-resizer.php
on line
119
Notice
: Trying to access array offset on value of type bool in
/var/www/wp-content/plugins/lets-review/admin/class-aqua-resizer.php
on line
120
Filmmaker Conrad Faraj found himself on the red carpet at the premiere of Sam Mendes' new film '1917' this past winter. Not because he was part of the film but because he had just won the 1917 One Shot Challenge that asked filmmakers to create something in the same spirit that Mendes did when he shot his film 1917. He was crowned the winner for his two minute short 'Wedding Runner.' Just a few days later we would be screening his film, 'The Unseen' at our festival, Panic Fest.
'The Unseen' was a late entry to the fest in the final days and much like a handful of other films it caught our attention. The short clocked in at just over nine minutes and had a production budget of $2k. It was part of a 48 hour film project and the finished product was fantastic.
Conrad seems to have a knack for making the most of a situation. From one take shots with an interesting twist ending that takes place in just 2 minutes or a 48 hour film project with great production value and a story that packs a punch with a good group of actors. Hollywood red carpets to genre film fest we are excited to see where Faraj's career takes him.
But for now, much like all of us, Conrad is stuck at home and in quarantine. That has not stopped him from being creative. His new short film 'The Astral' was originally intended for the Roger Corman Quarantine Film Festival, but the film ended up being longer than the required time frame. Yet another film that has spawned from a project that had constraints around the finished product.
'The Astral' focuses on a man suffering from nightly astral projections decides to document his experiences, until he makes a shocking discovery that begins to haunt him.
Being quarantined, Faraj had to get creative. "This film was shot entirely on the iPhone X, (including the VHS scenes), and the video capture was done using the Filmic Pro app, which allowed us to control all the technical and detailed aspects of the footage." said Conrad.

It plays on themes from 'Paranormal Activity' crossing over with 'Insidious' on a much smaller scale. Check out the exclusive premiere below along with stills and the poster.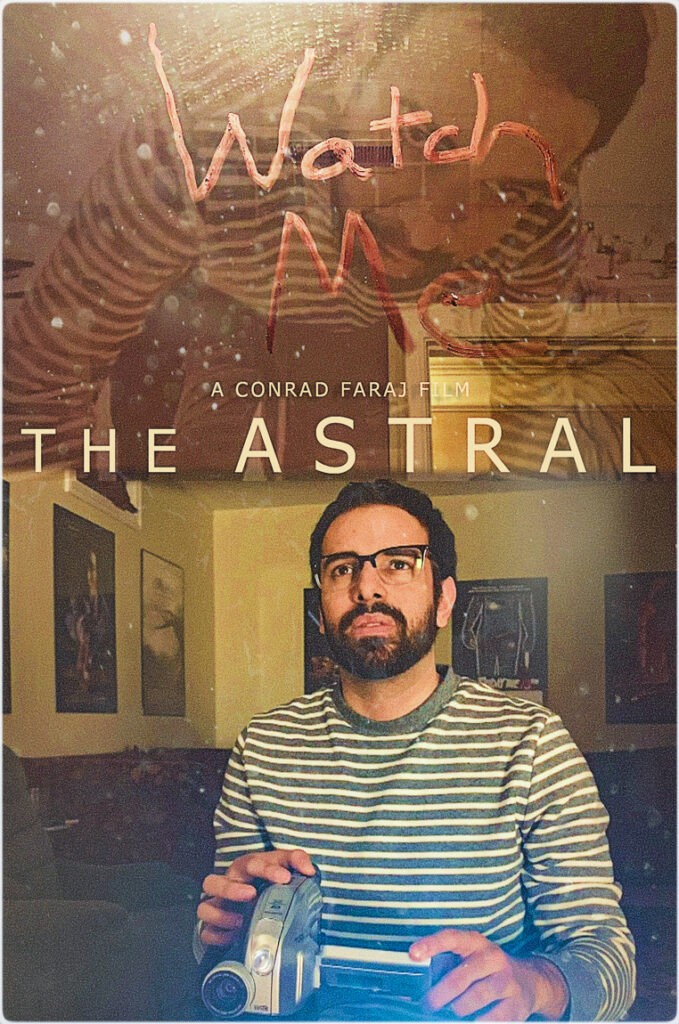 Photo Credit: Conrad Studios