The phone is dead. And it's ringing.
Ethan Hawke never plays the bad guy,and he says, maybe it was time for him to go to the dark side. In this look inside 'The Black Phone' Hawke tells us about The Grabber and we can't wait to see Hawke take on more dark roles. Check out the featurette below and go check out the film in theaters while you still can!
The film is based on a short story from Joe Hill and the screenplay was adapted by Scott Derrickson & C. Robert Cargill (Doctor Strange, Sinister franchise.) You certainly see some callbacks to Stephen King's Pennywise (Hill's father) with balloons that signal evil, someone snatching kids off the street and the yellow rain jacket accompanied by red boots that Finney's sister Gwen wears while she rides her bike on a rainy day trying to find her brother. We also get a callback to Sinister during some of the dream sequences. The same gritty treatment used during the dreams reminded me of the video footage of the kids hanging from the tree in Sinister. Coming full-circle for Cargill and Derrickson.
Director Scott Derrickson returns to his terror roots and partners again with the foremost brand in the genre, Blumhouse.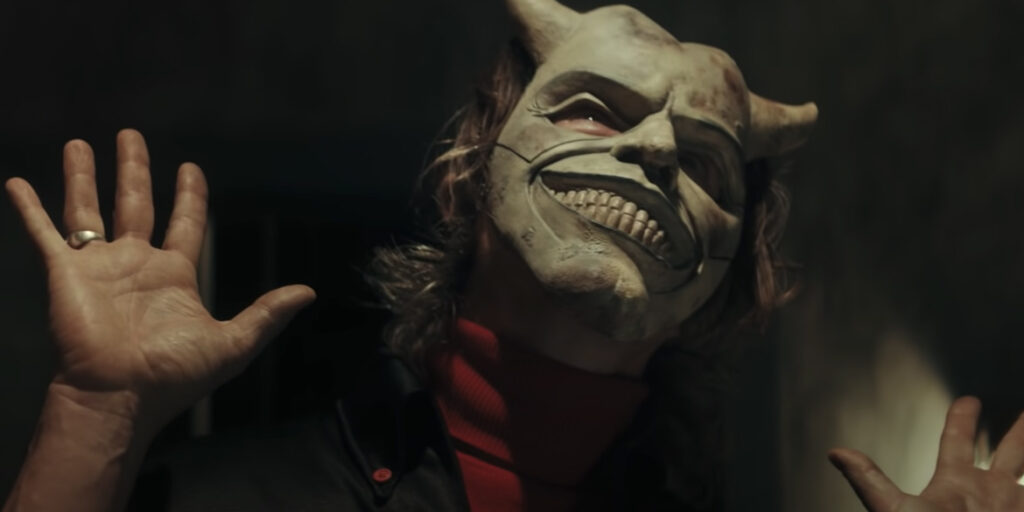 Finney Shaw, a shy but clever 13-year-old boy, is abducted by a sadistic killer and trapped in a soundproof basement where screaming is of little use. When a disconnected phone on the wall begins to ring, Finney discovers that he can hear the voices of the killer's previous victims. And they are dead set on making sure that what happened to them doesn't happen to Finney.
Starring Ethan Hawke in the most terrifying role of his career and introducing Mason Thames in his first ever film role,' The Black Phone' is produced, directed, and co-written by Scott Derrickson, the writer-director of Sinister, The Exorcism of Emily Rose and Marvel's Doctor Strange.