'Death is a lot of damned work', thinks 18-year-old ghost, Charlotte Williams, as she braves the unsettled world of the In-Between. It's here the rebellious teen finds the clues she so desperately needs in her battle against diabolic, secret society, The Hollow (who took her life and just happen to be trying to end the world!).
Upon her return to the 'Bone Yard' (aka Crystal Springs Cemetery), Charlotte meets up with 20- something supernatural bestie Poe, an acerbic goth who works with her to decipher the latest clues. Fellow ghost, Poe is something of a big sister to Charlotte; strong, hilarious – and always full of secrets. Though Charlotte's already been dead several years, Poe, on the other hand, may be as old as time! As past victims of The Hollow, both are now intensely dedicated to stopping the evil sect, who chillingly view human existence as a 'failed experiment'.
After several fraught run-ins with 'the Devil's janitors' (as Poe calls them), Charlotte is devastated when The Hollow kidnap her young son, Luke, in retaliation. Charlotte then suffers from the guilt of screwing up his young life 'even in death', before forming a plan with Poe to get him back – and make The Hollow pay.

Ultimately, Charlotte and Poe are forced to cosmically separate in their search for Luke.
However, in doing so, they're both severely tested and must grapple with their limitations – and their own dark pasts. Along the way, they meet a string of colorful characters both in 'Hollow Land' and the All-American (or is it?) Crystal Springs – and maybe even save the world.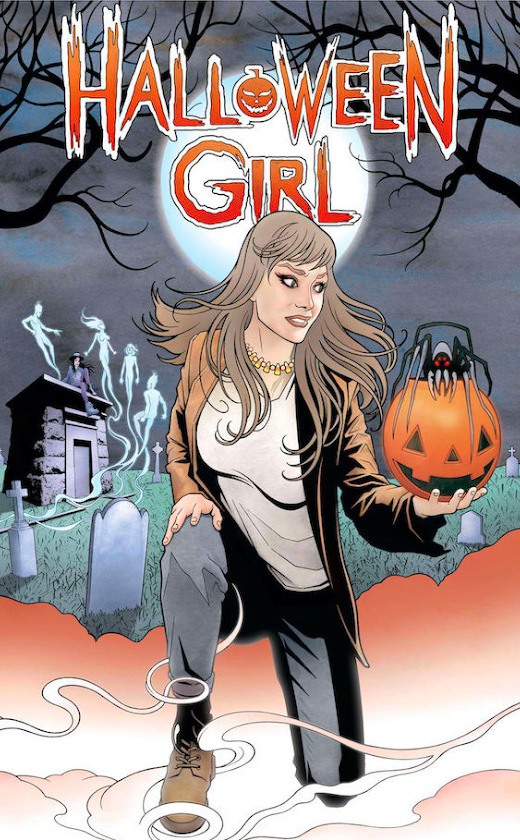 HALLOWEEN GIRL  Q&A
How did the 'Halloween Girl' series come about?
As we were wrapping the last season of our supernatural web series, 'Under the Flowers', I realized I had so many more of Charlotte's stories to tell that I just couldn't fit into the series. Long story short, I had been envisioning a graphic novel adaptation of the characters featured in 'The Halloween Girl' and 'Under the Flowers' films for awhile – and so, I finally dove in! Almost immediately, I felt the 'Halloween Girl' adventures just pouring out and realized I had never enjoyed writing anything more! In fact, I've already completed a second volume ('Gods & Monsters') and am currently at work on a third.
What sets the 'Halloween Girl' series apart?
I think the core of the series is about friendship. Sure, Charlotte and Poe are supernatural heroines who mine some deep, dark territory but they're friends first. They work, laugh, and discover this crazy universe together – and have a lot of fun doing it!
How did 'Halloween Girl' artist, Stephen Mullan come into the picture?
I had been looking for someone who could capture the 70's black & white horror comics spirit of Warren, Skywald, and Marvel but with a softer, more emotional tone. Stephen fit the bill beautifully! His love of that same era, youthful exuberance, and incredible talent really make the book come alive! I couldn't ask for a better partner!