The world of gaming has changed a lot over the years. We've gone from pixelated mini games to incredibly immersive pieces of storytelling that everyone can easily enjoy. One group that has benefitted immensely from these changes in the horror gaming community. New horror games carry an element of realism that can make anyone's skin crawl, and horror fans are more than happy to experience the adrenaline rush of these nightmare-fueling titles. If you're a big fan of horror looking to step into the gaming scene, here are a few games to ease you into it.
Horror Slots
It might come as a surprise to learn that horror is a big hit on the online casino scene. While most people go to these websites to enjoy classics table games like Blackjack and Poker, they have a lot more to offer. It's no secret that these platforms have some of the best games online, and currently, the modern themed slots are the most popular category players go for. These games come in all shapes and sizes, sporting themes inspired by ancient mythology, wild parties, and of course, scary stories!
The horror genre in online slots isn't a rarity. Players can find branded slots that pay tribute to iconic movie monsters, slots that feature occult themes, and slots inspired by horror fairytales. The choices players are left with when looking for horror slots are extremely varied, so you'll have no problem finding games suited to your personal preferences. Of course, the gameplay in these titles is fast-paced and action-packed, so even though they're not your traditional horror games, they're as exciting as can be.

Resident Evil
If you're somewhat new to horror video games, there's no better place to start than with one of the most popular game franchises in the genre. Resident Evil is the reigning champ of survival horror games. The apocalyptic zombie-filled world of the games makes for an eerie setting that can frighten even calm and collected players. With over seven games under its belt and counting, the franchise has a ton of content that players can enjoy. Currently, Capcom is working on the latest title, which recently dropped a thrilling demo you can check out!
It's hard to know which game to start with when Resident Evil is in question. While the most obvious answer would be the first game, it's good to note that not everyone might enjoy it. The first game in the series is now considered a retro classic, so it might not suit everyone's preference. Our suggestion is to start with the seventh installment. The game is more recent and has received incredible reviews for breathing a breath of fresh air into the genre.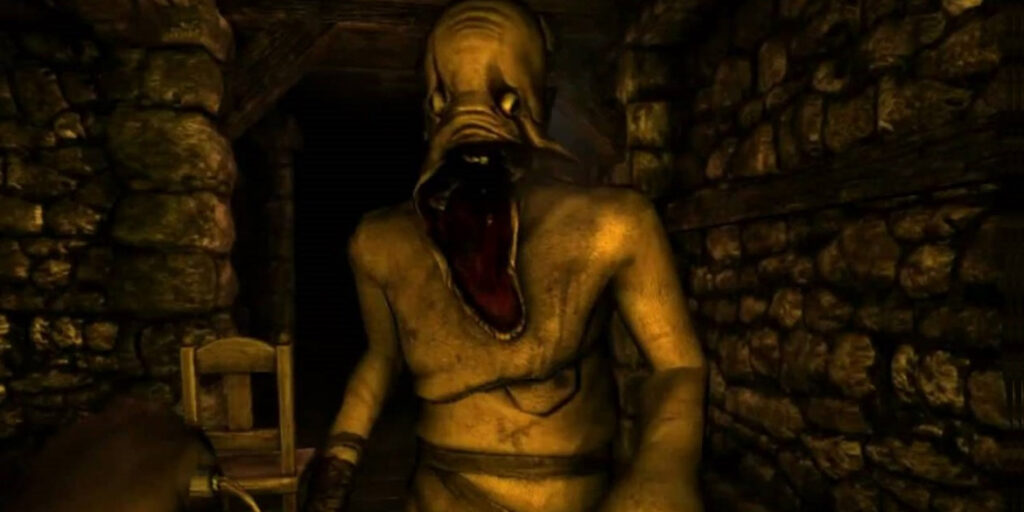 Amnesia: The Dark Descent
Amnesia: The Dark Descent might not be the most recent of horror titles, but it's one of the best. Filled with terrifying monsters that will haunt your dreams for a long, long time after you finish it, the game is one of the most unsettling horror games ever released! The thing that makes Amnesia such a powerhouse is, surprisingly, sticking to the basics. For most players, it might seem like a nightmare that never ends.
Players practically have no way to destroy the creatures lurking in the shadows, so they have to resort to running and hiding. The fear of the unknown is what gives this game an edge that many horror games don't have. Players never know what to expect, and that's half the fun of it! Knowing that Amnesia can easily mess you with your head, it makes sense why it's made it onto so many best horror games lists. If you think you can handle it, we 100% recommend trying it!