When Rob Zombie's 'House of 1000 Corpses' slashed its way into theaters 20 years ago, 1970s-style horror – and camp – returned with bone-snapping, scream-inducing vengeance. Zombie's directorial debut, this first film of a trilogy introduces the Firefly family, backwoods sadists who plunge two young couples into a nightmare world of torture, satanic ritual, and cannibalism.
With a killer cast including horror legends Sheri Moon Zombie, Bill Moseley, Sid Haig, and Karen Black, "House of 1000 Corpses" is both a homage to a golden era and a scary good time from an innovative, unrivaled shock-master.
Lionsgate is celebrating the 20th anniversary with a new blu-ray premium box set and an exclusive Best Buy Steelbook on April 11, 2023.  Here are the details.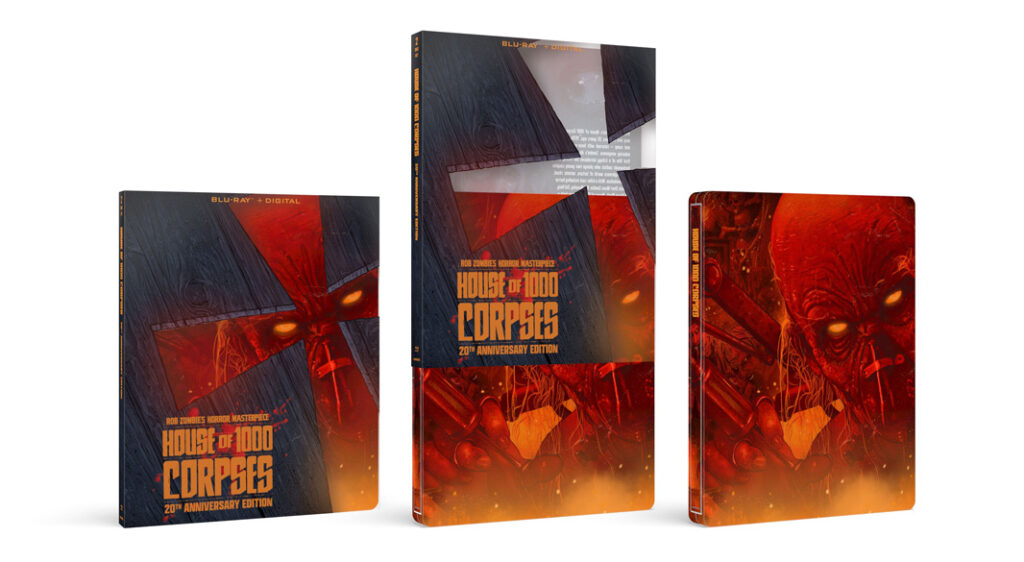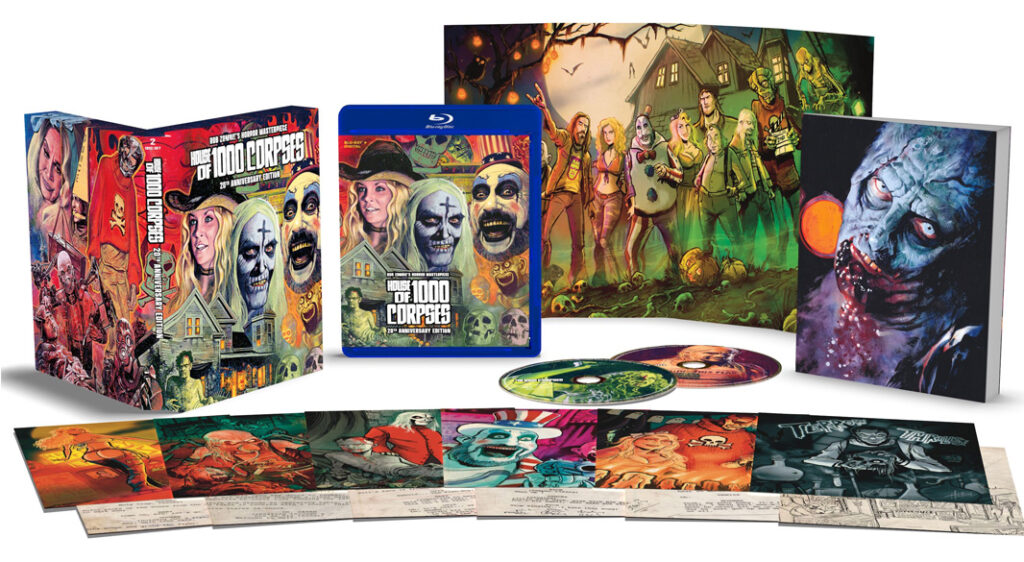 Premium Box Artists:
Graham Humphreys – illustrated outerbox, photo book illustrations, disc art
David Hartman – illustrated poster, illustrated art cards
Steelbook Artist:
Special Features:
Premium Box EXCLUSIVELY includes
Illustrated outerbox by Graham Humphreys
Illustrated poster by David Hartman
0-page photo book curated by Rob Zombie with illustrations by Graham Humphreys
6 Illustrated Art Cards by David Hartman
DISC 1
Director Commentary
Making-of Featurette
Casting Footage
Rehearsal Footage
Cast and Crew Interviews
Theatrical Trailer
DISC 2 – Bonus Disc of Never-Before-Seen Special Features from Rob Zombie
Cast & Director Interviews
Rob Zombie
Sid Hai
Bill Moseley
Sheri Moon
Karen Black
Rainn Wilson
Chris Hardwick
Erin Daniels
Irwin Keyes
Jennifer Jostyn
Wayne Toth
Behind The Scenes
Includes 5 On-Set BTS Segments
Dr. Satan Test
Professor Test
Electronic Press Kit
Teaser Trailer
EXCLUSIVELY ON DIGITAL PLATFORMS: New Director's Commentary