Uncover the history of Burkittsville in this 'Blair Witch' tabletop role-playing game. Work together with your friends or go it alone to overcome the malevolent forces in this terrifying experience from the makers of Hunt A Killer.
One thing I have always wanted to do is dive deeper into 'The Blair Witch' backstory and the Burkittsville Seven. Some day I hope we get a prequel that serves as 'Blair Witch 3,' but until then I will settle for video games that advance the storyline and tabletop game experiences such as this from Hunt A Killer.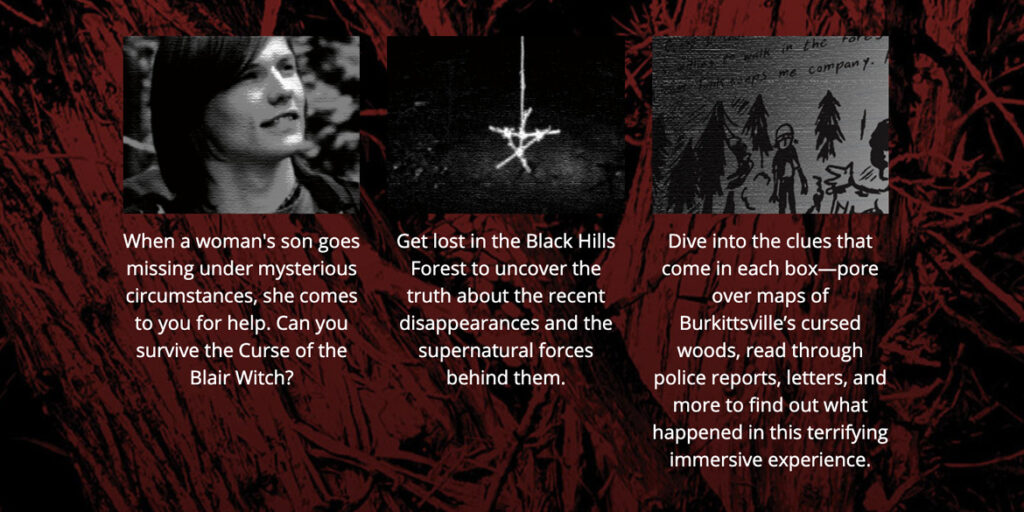 Experience the supernatural forces of the 'Blair Witch' like never before in this narrative-driven psychological thriller. Every month you'll receive a new box of clues, documents and ciphers that get you closer to the truth. For those not familiar with Hunt A Killer each "season" is 6 episodes (6 months) long… the story never ends. It's like a gripping TV show that keeps going — only you're the star of the show, Detective.
If you are interested in checking this version out they have 3 tiers of pricing listed below and you can save 20% off your order using BLAIR20 at checkout.