Okay, so we don't know if it's Manhattan specifically, but you get the picture. Paramount Pictures released the first teaser trailer for the sixth installment of the Scream franchise, officially titled Scream VI— and we're officially back to number titles! And this time, the title screen's signature slash makes its way across the 'M' in SCREAM to form the roman numeral six, which I personally think is a perfect little clever touch that falls right inline with the rest of the franchise.
With everyone in costume for Halloween, a subway car is the last place you want to be if you're on the run from a mysterious masked killer. However, confined to a moving, underground box with seemingly no escape, survivors Tara Carpenter (Jenna Ortega) and her sister Sam (Melissa Barrera), along with Mindy and Chad Minks-Martin siblings (Jasmine Savoy-Brown and Mason Gooding) are confronted once again by someone in a ghostface mask. The survivors are joined on the subway by Josh Segarra, as an as-of-now unknown character in the film.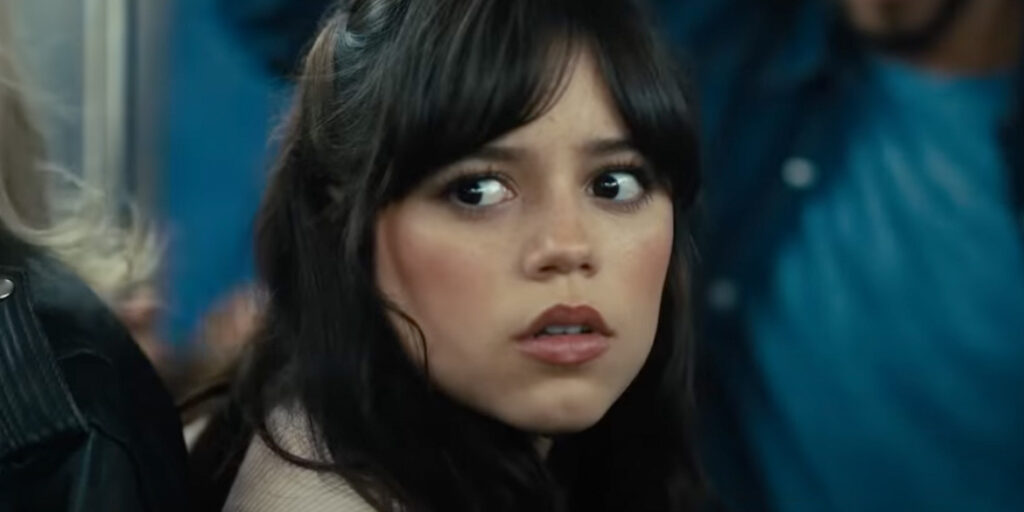 Other actors joining the Scream VI cast include Samara Weaving— who previously worked with the Radio Silence team as the star of their 2019 film Ready or Not— and Scream 4's  Hayden Panettiere as Kirby Reed.
At only 1:05, the trailer makes sure you know that no one is safe. Complete with flickering lights, and a worn out and cracked Ghostface mask (similar to 2018's Michael Myers' aged mask) in the title card, the trailer has an overall much darker atmosphere to it than what you might expect from a Scream film.
A new era of Scream from a new era of filmmakers, and specifically from horror-loving filmmakers. The subway car full references to other horror films really shows the members of Radio Silence's love of the genre (aside from, you know, reviving one of the moste beloved slashers ever) including people dressed as Pinhead (Hellraiser), The Babadook (The Babadook), Danny as the May Queen (Midsommar), and a nod to their own film with someone dressed as Grace (Ready or Not).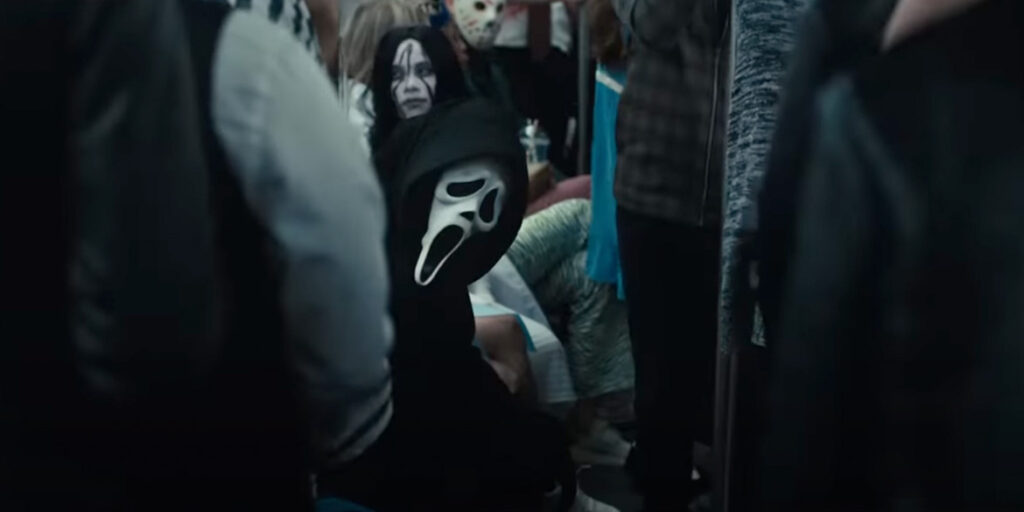 Missing from the film however is the core of the franchise up until now, Neve Campbell. After a less-than-satisfactory offer to be a part of the film, Neve Campbell decided not to reprise her role in the franchise. It is bittersweet having to say goodbye to Sidney after so long, but in an interview with Entertainment Weekly, co-director Tyler Gillett takes a more optimistic approach to the departure by saying:
"We love Neve, and we're huge fans of Sidney Prescott, but it felt like there's an opportunity to really dig into this new crop of characters, and I think people will be really surprised and pleased with how successfully this movie does that. This movie's been in our lives now for quite a while, but I think that we are still consistently surprised by how rich and how interesting and deep the relationship is between the four of them in this movie."
Campbell's exit leaves Courtney Cox's Gale Weathers as the only remaining living character from the 1996 original's main cast.
How will the survivors and those around them navigate the big city with a new killer after them? Who's favor will the crowds of people be in— the survivors', or the killer's?
Check out the teaser for yourself below, and make sure to catch the killing spree slated to release next year in theaters on March 10.