When COVID hit it made us re-imagine how we live our lives in some ways. That is also the case as we creep closer and closer toward Halloween and Haunt season. Leaving many to wonder how haunts will open and when they do what pre-cautions will be in place to keep everyone including actors safe. As this question is being asked the rise of drive-thru haunt experiences are on the rise. Whether it be a haunted hayride or staying in your own car, we should see more of both options this season.
That brings us to Netflix new 'Stranger Things: The Drive-Into.' Bit of an awkward name but I get what they were going for. You'll be able to "drive into" Hawkins from the safety of your car. The immersive experience is taking place in downtown L.A. and will cost $59 per car. More info on the experience below and how you can join the waitlist to experience the event for yourself.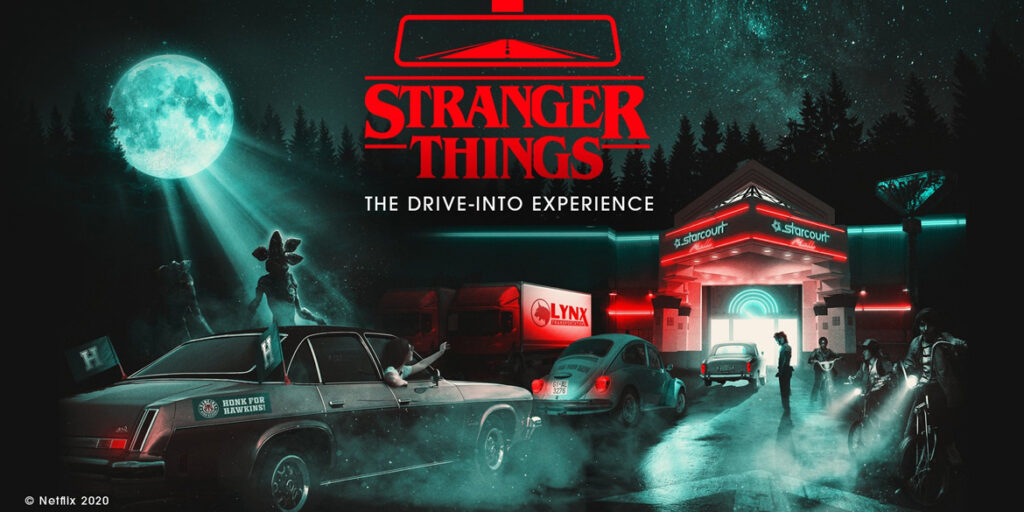 ABOUT THE EXPERIENCE: 
Attention all Stranger Things fans! It's time to travel back in time to 1985 and become a Hawkins resident – in real life. Adventure calls, so gather your friends and drive to the Starcourt Mall. Immerse yourself in the thrilling world of Stranger Things, where you will take part in a "drive-into" experience like no other.
You will unlock the untold story of Hawkins in this unique format event – all from the safety of your car. In a central DTLA location, you'll dive into and explore a living, breathing story to savour some of the best moments from the Netflix series and maybe even witness some unforeseen and unusual occurrences. Sign up now to unlock the secrets that await…
The year is 1985 and a world of bitchin' tunes, mullets and monster hunts awaits. Hop into your car, drive to the Starcourt Mall and find yourself at the heart of the action. In a town built on secrets, you may be surprised to discover a more sinister truth than you had ever imagined.
Expect real-life locations from the series and mind-blowing audio and visual effects. This adventure is Eleven out of 10! But beware, things can quickly turn uʍop ǝpᴉsdn.