Visionary horror director, Robert Eggers, has returned to the silver screen again at long last with his latest film The Northman, in tow with a thrilling combination of familiar faces and talents from his previous works. 
From the looks of the recently released trailer, The Northman feels just as brutal and dark as one could hope considering the history of the story it aims to embody. The film tells the tale of Viking prince, Amleth, as he relentlessly embarks upon his quest to "Avenge father. Save mother. Kill Fjölnir." 
This piece of Scandinavian lore, as it relates to the journey of wronged Amleth, also happens to be the origin of Shakespeare's tragedy, 'Hamlet, Prince of Denmark.' 
Considering the mastery with which Eggers has delivered brooding historical pieces to the screen time and again with his previous films, one can really only anticipate great things. Or so we hope. 
The film boasts the return of Anya Taylor-Joy, Kate Dickie, and Ralph Ineson– all actors from Eggers' 2015 debut film, The Witch. We also catch a glimpse of Willem Dafoe in the trailer, who delivered an enthralling performance at the helm of The Lighthouse in 2019. In terms of new faces within the Robert Eggers cine-verse stand Alexander Skarsgård, who plays Amleth himself, along with Ethan Hawke, Nicole Kidman, Claes Bang, and Icelandic singer/actress Björk amongst many others.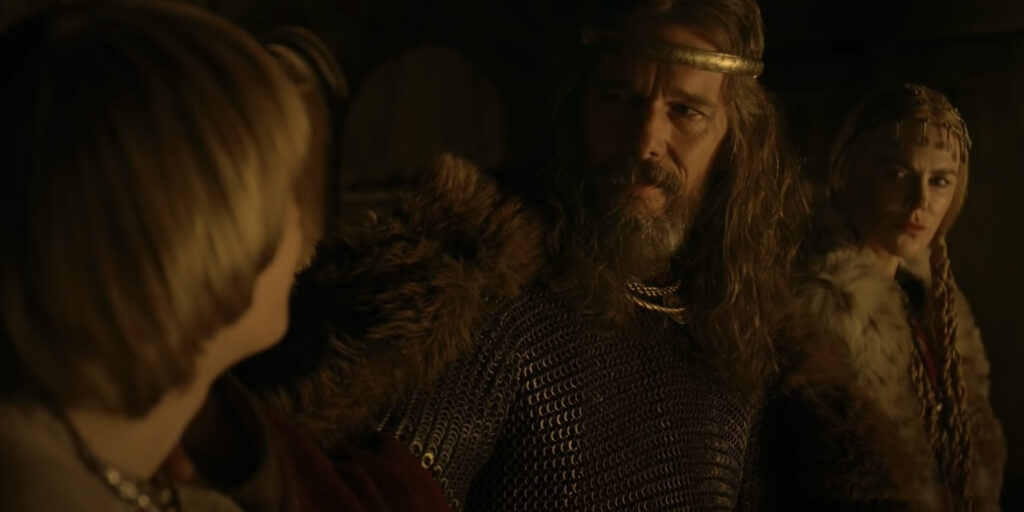 With cinematographer Jarin Blaschke once again teamed up with Robert Eggers after their work together on The Lighthouse (2019), this film is bound to be captivating and expansive at the very least. The Northman was filmed on-location in Iceland as well as across Ireland. 
And if Eggers knows how to do anything within his films, it is without a doubt, how to set the tone of a world yet unseen. 
On this project, the director has also collaborated with Icelandic poet, lyricist, and novelist, Sjón in writing The Northman. Sjón, a frequent collaborator of Björk (who also makes an appearance in this film), is an artist well known for their innovative and surreal prose pieces. 
With great thanks to Focus Features, audiences can expect to see Eggers' Viking epic in all of its glory on April 22nd, when The Northman has its theatrical release.