The haunt season is here and in full swing! While most of us are scouring the shelves at Spirit Halloween for costumes, masks, props or animatronics. We want to shed the light on some of our favorite companies in the haunt industry to take your home haunt to the next level in 2022. That is why we are bringing your attention to a company called BeastCraft and their incredibly decrepit catalog. Here are 5 of their products that I want to add to my collection as soon as my wife approves. *checks with wife* … well there is always next year!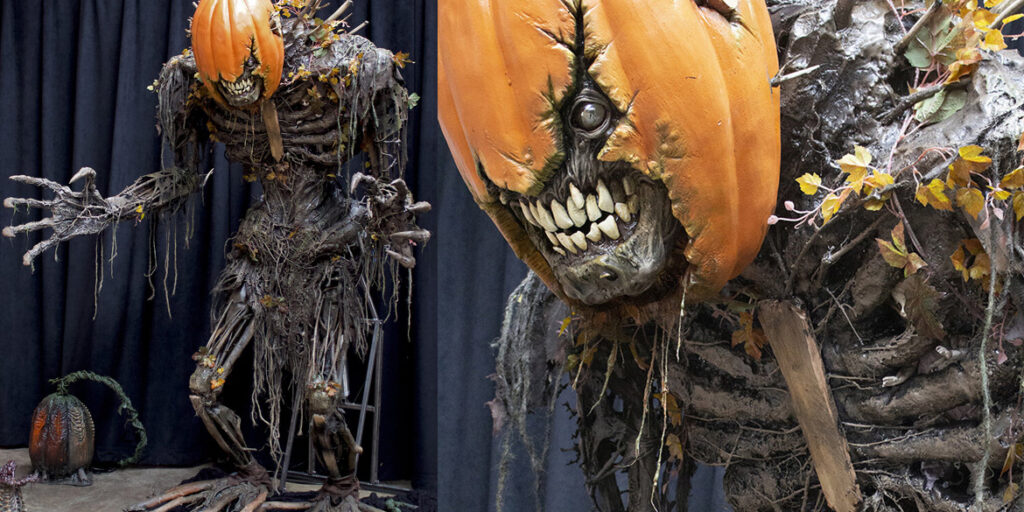 This Harvest Golem super-creature rises from the patch and stands up to a towering 9 feet tall. His arms open up and his head rotates side to side as he awakens. His jaw movement allows him to growl in anger as he is summoned into existence. A synchronized audio track paints a soundscape of snapping vines and trees as the creature rises and blasts unearthly howls in time with the jaw movement.
Power: Pneumatic
This prop comes in both static and animated options.
Price Range: $4530 – $8587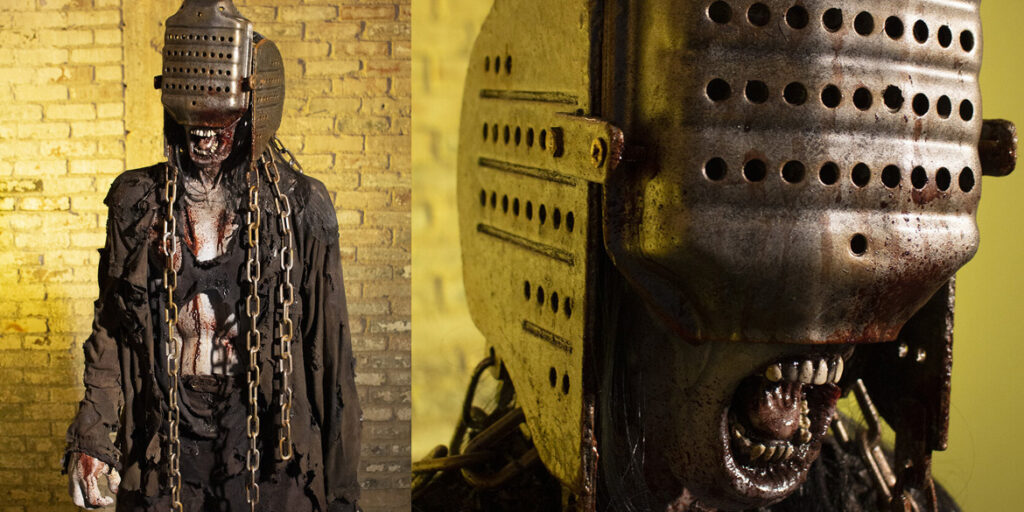 Ok, if you got some sticker shock from the lats prop, I totally understand. So maybe this budget zombie is more within your bank account. Add some post-apocalyptic steam-punk flair to your zombie army with this chain rattling 6' tall automation.
Power: Electric
This prop comes in both static and animated options.
Price Range: $786 – $1371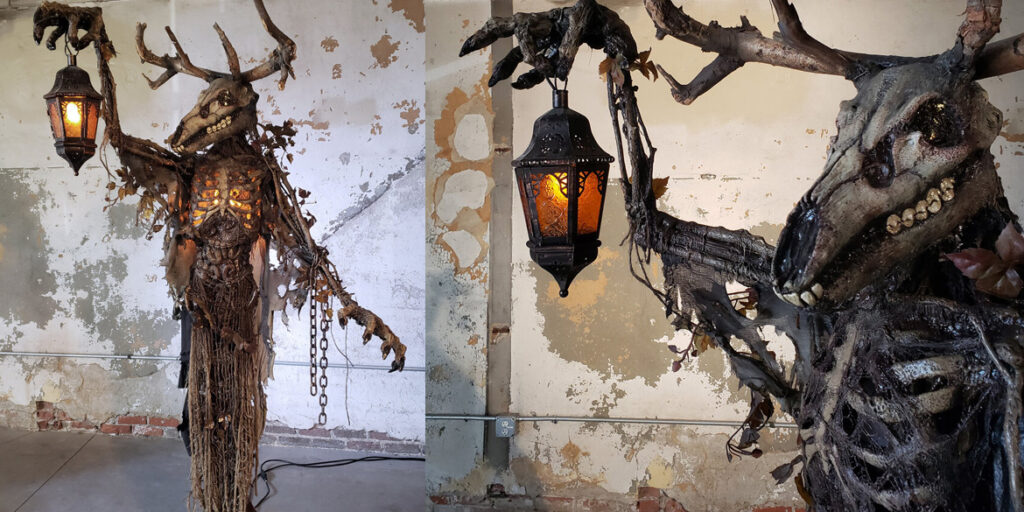 Be careful walking in the woods at night, and take caution of the Forest Spirit who guards the woods. Hovering back and forth with a glowing chest and eyes, the Spirit holds a lantern as a beacon to the other woodland specters, summoning them to your forewarned seance of doom. This animated character moves from side to side and up and down in a slow arch while its body stays vertical in a wraithlike motion. It features LED light effects in its lantern, chest, and eyes. Our static version of this character features the same detailed art work and lighting effects. The character is 86" tall, and 42" wide from hand to hand. Both static and animated versions of the Forest Spirit come with a heavy duty steel base.
This prop comes in both static and animated options.
Price Range: $1119 – $1594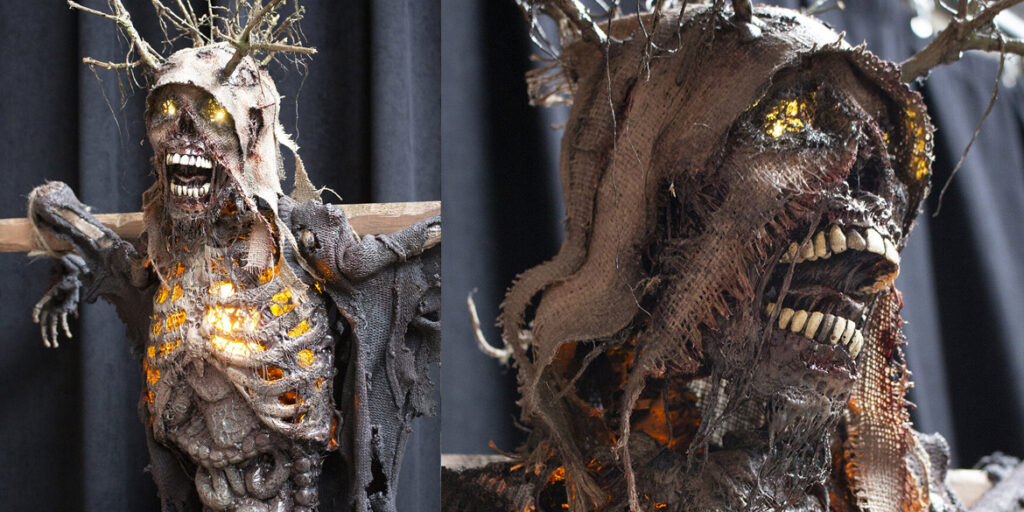 Use this illuminated corpse to cast a glow on your scene. This scarecrow hangs from a free standing wooden cross. Small LED lights accent the empty eye sockets, and a flame effect LED creates an unnerving inner glow .This light fits well in any harvest scene, or pairs with our Harvest Golem super-creature and Pumpkin Pods. Each Scarecrow Lantern head is hand made, and the crown of sticks can vary. Check out our instagram page fore more pictures of these lanterns.
Power: Electric
Price: $594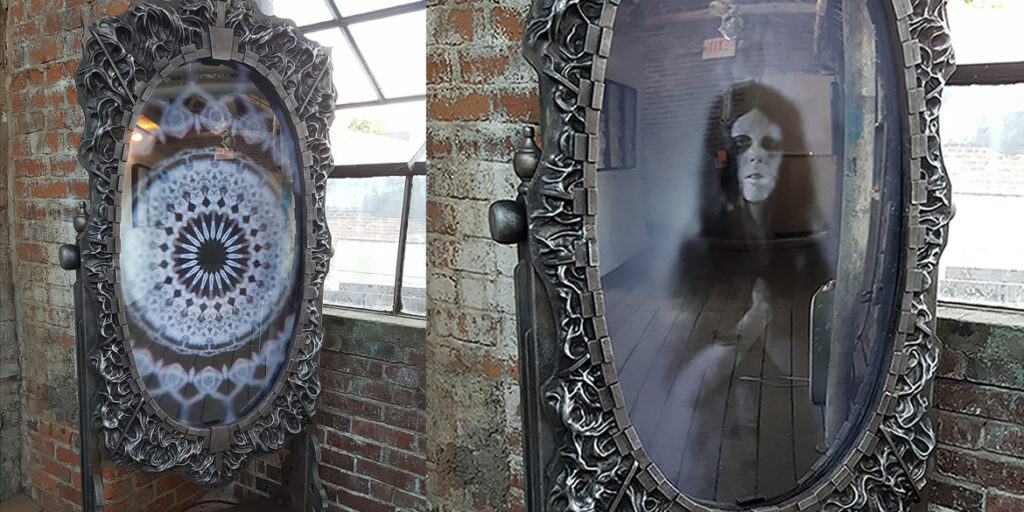 This artfully crafted antique style frame holds a one way mirror. This mirror hides a flat screen television that loops a ten minute video of ghostly images.
Power: Electric
Price: $2569
Well there you have it. Our favorite products from the BeastCraft catalog to bring your haunt to the next level. Be sure to keep it locked into Downright Creepy as we explore more haunt industry companies, props and haunted attractions.