'Mad God' is an experimental animated film set in a world of monsters, mad scientists and war pigs. A corroded diving bell descends amidst a ruined city, settling down upon an ominous fortress guarded by zombie-like sentries. The Assassin emerges to explore a labyrinth of bizarre, desolate landscapes inhabited by freakish denizens. Through unexpected twists and turns, he experiences an evolution beyond his wildest comprehension. A labour of love that has taken 30 years to complete, Mad God combines live-action and stop-motion, miniature sets and other innovative techniques to bring Tippett's wholly unique and grotesquely beautiful vision to life.
The film is directed by visionary and Oscar and Emmy Award-winning stop-motion animator and special effects supervisor Phil Tippett, founder of Tippett Studio and the creative powerhouse involved in such classics as 'RoboCop,' 'Starship Troopers,' 'Jurassic Park,' and 'Star Wars: A New Hope' and 'The Empire Strikes Back.'
An inspiration and trailblazer in his field, Tippett's work has been praised by Steven Spielberg, Paul Verhooven, Lucasfilm President Kathy Kennedy, and many more, and continues to this day to push the boundaries of the animation genre.
Phil Tippett had the idea for 'Mad God' during a lull in his schedule after 'Robocop 2.' After sketching and designing a few creatures and sets, he and his stage and stop motion team at Tippett Studio shot the first few scenes of 'Mad God,'  including the shot of the Beast strapped to a table and a tracking shot of the Shit Men walking through a desiccated subterranean city.When he received the call to supervise the dinosaurs for 'Jurassic Park,' Phil suspended work on the project. 'Jurassic Park' proved to be a watershed moment in the evolution of visual effects. With a shift from handmade visual effects, the likes of which Tippett was best known for, to computer generated graphics and imagery (CGI), Phil saw the writing on the wall and thought the kind of work he was doing with 'Mad God' had gone extinct overnight.Some 20 years later, while cleaning out the back storage areas of Tippett Studio's Berkeley stages, several of his key artists and supervisors stumbled across original puppets and sets from those early shots.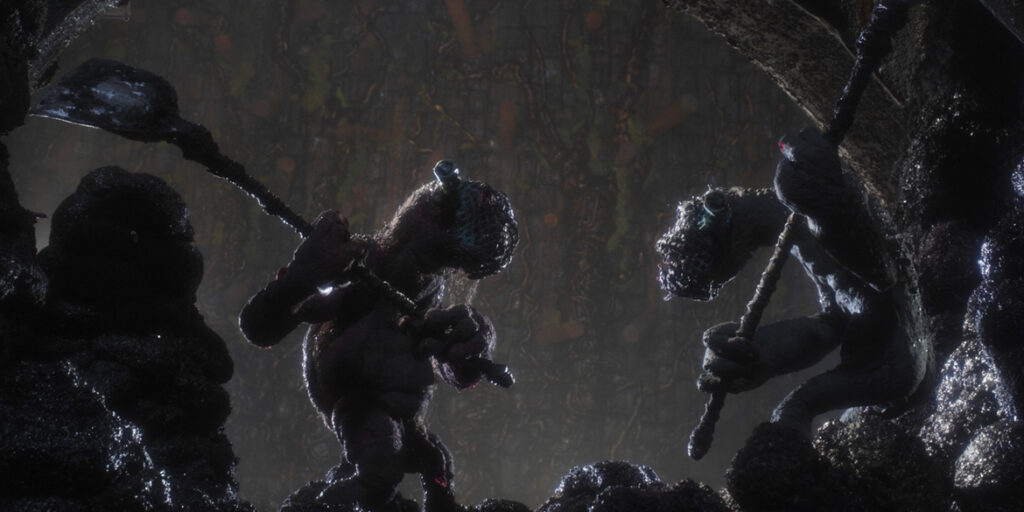 Revisiting the original footage and models, this new generation of artists, trained primarily on computers, longed to learn from Phil and assist as he revived his long-since abandoned film. Together with a volunteer crew, Phil taught a new generation of artists and craftspeople as they brought his labor of love to life.In 2020, while the world sheltered through a global pandemic, Phil continued, and completed the final scenes of what is now a complete, feature length experimental mostly-animated adult-oriented cinematic masterpiece. MAD GOD invites its viewers not so much as to watch a story unfold as to be transported from their world to another world entirely – one of monsters and war pigs – where traditional narrative structures are mere suggestions, and the world we live in can be viewed as if through the lens of Hieronymous Bosch crossed with Buster Keaton.
"MAD GOD kind of defies description. I look at it like creating a narrative that the audience members themselves will complete. All the objects are very understandable in terms of our everyday experience, but they're put together in a way that's kind of broken and reconfigured. I wouldn't call it surrealistic – more like using an unconscious frame of reference to build things with. The final form of MAD GOD is the memory of it after you watch it, like waking up and exploring the memory of a dream you just had. That's what the experience really is. Not the film itself – the film is just a way to get there. A lot of the ideas are stolen from dreams. The imagery of MAD GOD isn't futuristic. It's iconic." says Tippett.

Credit: Tippett Studio // Shudder

"We all have these things in our collective heads, it's just a matter of how each person's mind chooses to put them together. None of the actual imagery comes from a specific dream, but the whole thing is influenced by that kind of human experience.MAD GOD works within a very limited structure, but for me it's important that the project not be ruled by intention. I'm letting the work tell me what it wants to be – I'm like an abbot in the church of MAD GOD, and I just do what the deity tells me."
'Mad God' is written and directed by Tippett who also produced.  It will premiere exclusively on Shudder June 16th.