As an avid consumer of the Horror genre, it is no longer ironic to bear witness on-screen to the nonbeliever's almost immediate conversion into something like faith. Rather, it is expected– anticipated, even. 
The chilling trailer for 'The Medium' begins with the narrator, Nim's, remarking upon her familial ties to Ba Yan, whom her ancestors have functioned as shamans for, over the course of many generations. Nim, who is played by Sawanee Utoomma, is a Thai Shaman herself, and leading a documentary film crew back to her homeland of Isan in Nothern Thailand for what they hope will be an insightful look at the intricacies of the passing of her mystic lineage unto the next generation.
Leaving the realm of Catholicism within religious horror behind, 'The Medium' serves as a vessel pulling viewers away from their knowledge of holy water and the exorcisms of films past, and into what is bound to be an exceedingly immersive journey into this community shrouded in undefinable mystery as well as what feels like dread.
"Ba Yan only chooses women to be Her medium…" as Nim offers, and her doubtful niece Mink (Narilya Gulmongkolpech) appears to be the chosen successor of the relentless deity in question. 
Nestled within beautifully composed scenes of worship in natural settings are also offerings of those handheld/night vision shots we know and yearn for. The contrast between both of these approaches to this world is what lends this eerie sense of disjointed movement to the narrative as the trailer progresses. It grounds the story in something that feels familiar and real– shaky and rugged in the way that truth almost always tends to be.
Hence, the unsettling resonance of the glimpses the trailer offers its viewers of Mink's gradual evolution into this raw state of disembodiment. Or has she simply embodied the spirit of something else? 
'The Medium' won the 2021 Bucheon International Film Festival's highest award, Best of Bucheon, upon its premiere in South Korea, where it also earned $7.3 Million in July during its theatrical release.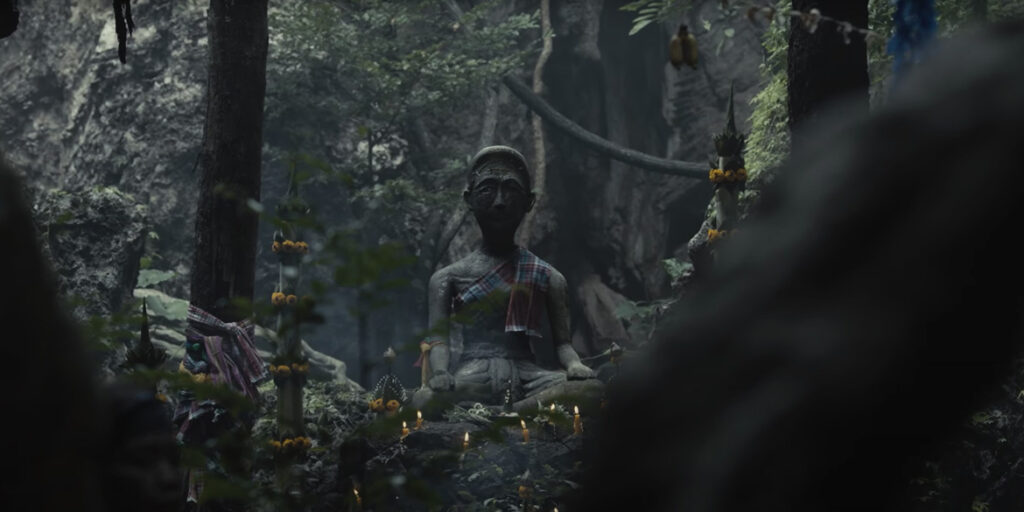 Not surprisingly, when the minds behind this project are taken into consideration. 
Producer Na Hong-jin was the creator of the intricately woven rural Korean Horror film 'The Wailing', which also dove deep into the practice of Shamanism and the effects of hysteria in 2016. Furthermore, the director of 'The Medium', Banjong Pisanthanakum, made his own directorial debut in 2004 with the film 'Shutter' which garnered worldwide recognition as well as massive box office success. 
Shudder is set to release 'The Medium' on October 14th in North America, the UK, Australia, and New Zealand.