Notice
: Trying to access array offset on value of type bool in
/var/www/wp-content/plugins/lets-review/admin/class-aqua-resizer.php
on line
119
Notice
: Trying to access array offset on value of type bool in
/var/www/wp-content/plugins/lets-review/admin/class-aqua-resizer.php
on line
120
Notice
: Trying to access array offset on value of type bool in
/var/www/wp-content/plugins/lets-review/admin/class-aqua-resizer.php
on line
119
Notice
: Trying to access array offset on value of type bool in
/var/www/wp-content/plugins/lets-review/admin/class-aqua-resizer.php
on line
120
In 2005, Neil Marshall's 'The Descent' was released to international acclaim and quickly became one of the defining horror films of its decade. In the time since, Marshall has struggled to match that success since, both culturally and critically.
Unfortunately the streak seems like it will continue with his latest release for Shudder, 'The Reckoning'. The film takes place during the Black Plague, when a woman (Charlotte Kirk) is accused of witchcraft after losing her husband to the disease. She is placed under the custody of a notorious witch-hunter as she is forced to battle against him and darker forces in an effort to prove her innocence.
'The Reckoning' ends up a confusing blend of two different movies; one an examination of the cruelty of man when pushed by fear and ignorance and the other a tale of human good vs. supernatural evil. If they sound contradictory that's because they are. Marshall couldn't seem to decide what movie he wanted to make so we're left with a movie that asks you to feel sympathy for a woman accused of communing with the devil who starts communing with the devil.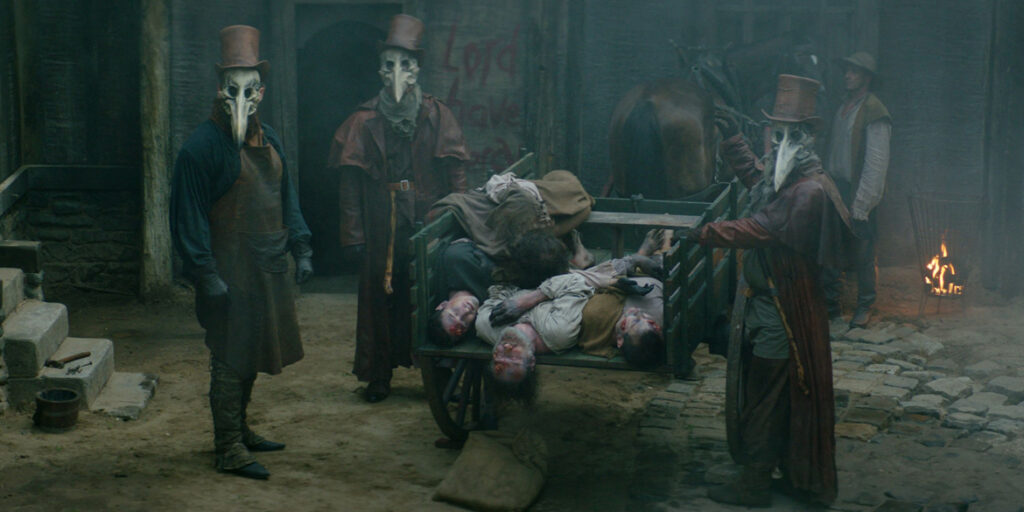 The performances overall are pretty decent with the standout being Sean Pertwee as the witch-hunter Judge Moorcroft. However, the film suffers from having a surprisingly large cast that leaves an ensemble hard to keep track of. Kirk holds her own as the lead Grace, but her perfectly manicured eyebrows and constant smoky eyeshadow ruin any sort of period credibility the production design team worked for.
The film takes its time when Grace's interrogations begin, but after the 4th or so round of torture, at times explicit and sexual, the disgust at what's happening to her starts to wane and you wonder if the team had a little too much fun making those scenes. The nearly two hour runtime does no favors to the pacing of the story either, the film feeling rather endless at points.
Despite its best efforts, 'The Reckoning' ends up being a confusing muddle of ideas that can't decide on if it should be a story of witches or a story of accused witches. It also can't decide if it should be a story about the injustices of the past towards women or if it should include another close up of the pear of anguish.
RLJE Films and Shudder will release 'The Reckoning' in theaters, on demand and digitally on February 5, 2021.