Notice
: Trying to access array offset on value of type bool in
/var/www/wp-content/plugins/lets-review/admin/class-aqua-resizer.php
on line
119
Notice
: Trying to access array offset on value of type bool in
/var/www/wp-content/plugins/lets-review/admin/class-aqua-resizer.php
on line
120
Notice
: Trying to access array offset on value of type bool in
/var/www/wp-content/plugins/lets-review/admin/class-aqua-resizer.php
on line
119
Notice
: Trying to access array offset on value of type bool in
/var/www/wp-content/plugins/lets-review/admin/class-aqua-resizer.php
on line
120
To acknowledge what you're thinking up front: yes, it's all so familiar. Video calls glitch out. Knocks at the door aren't always invited. We know a little too much about our neighbors. Time means nothing — is it passing, is it standing still?
In 'Alone With You,' co-directors Emily Bennett and Justin Brooks have taken direct inspiration from the added layer of color our homes have taken on over the last two, going on three years. At various stages, and to varying degrees, our apartments and houses have shapeshifted in meaning, alternately standing as places of safety, places of confinement, places of dread.
In a welcome reprieve from our own physical isolation, or memories of the thick of it, we get to detach ourselves for an evening, and delve in the personal hell of Charlie (Bennett). In her candlelit Brooklyn apartment, Charlie prepares for a romantic evening with her girlfriend, Simone (Emma Myles). After hearing nothing from Simone all night, realizes she's locked in her apartment. With strange sounds and figures taunting her, and memories of her first year with Simone flooding her mind, Charlie drifts in and out of reality. Thus, we get to join in on her night-in from hell.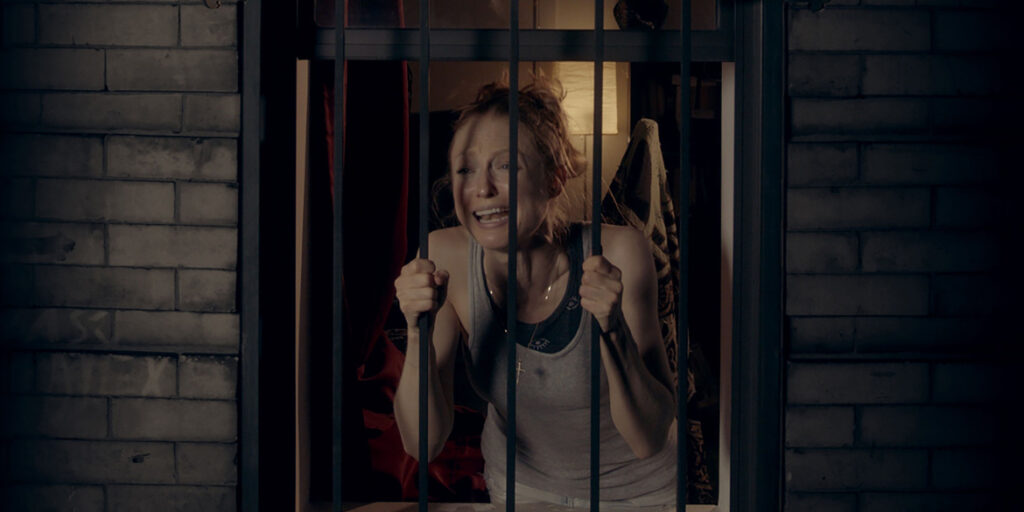 There's a barebones simplicity to Bennett and Brooks' (they also double as co-writers) framework. The film is essentially composed of two elements. We have one apartment and one woman. But so it goes: underpromise, and overdeliver. 
The trick of making 'Alone With You' work is in transforming a simple New York apartment — with all of its awkward corridors, unresponsive supers, and oddly-placed air vents — into a proper house of horrors, exposed brick panels and all. 
Shot entirely during the pandemic, the film squeezes the most sinister scares out of one location, with what might be mundane home accents on a normal day. What if you peered out your apartment peephole and saw a dark, faceless figure at your door? Or the pitch black darkness outside your window wasn't just the kids next door pulling another prank? Or the sobs you hear coming from your air vents alternated between maniacal, mocking laughter?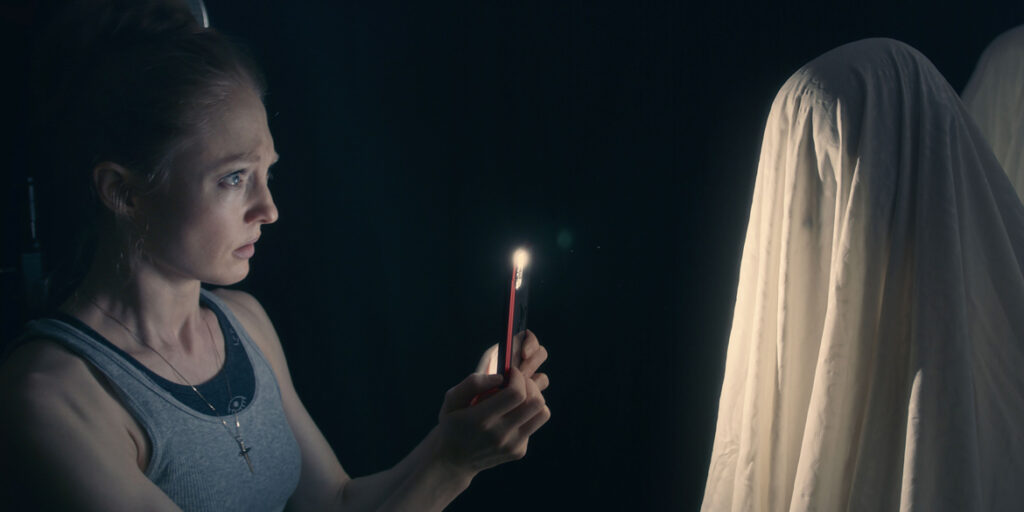 While the fantastical can transport an audience, allowing us to feel a safety in being worlds away from danger, a slight tweak in reality makes for the most disorienting, and in effect horrifying, movie-watching experiences. An anxious, propelling score from composer Phil Mossman heightens the fear factor.
For Charlie, the off-kilter goings-on blur the line between her mind's manifestations and reality. Throughout the film, we flash back to Charlie and Simone's challenges as a couple, including Simone's infidelity and Charlie's unhealthy attachment to her partner. We're made to sift through the shards of their relationship, with a timeline becoming unclear the more we're let into their life together. More importantly: Charlie seems to be piecing the memories together as well, entwining 'Alone With You' in a mystery that half-untangles itself far too quickly by the end.
While the flashback-fueled plot is not one of the film's strengths, the refrain of time passed is of particular intrigue. The clock on Charlie's phone goes blank at the top of the night, erasing the meaning of time altogether and sending the film further into its swirling madness. With this, Bennett and Brooks strike a nerve.
In 'Alone With You,' our writer-directors have traded outlandish situations and complicated plot trappings for the simplicity of four walls. But also something else, something deeply horrifying: a fear that there is no light at the end of this seemingly endless tunnel.
'Alone With You' is available in Theaters on February 4th and On Demand and Digital February 8th.