Have you ever watched Stanley Kubrick's 'The Shining' and dreamed of having props from the film displayed on your mantel at home? Well now you can! If you have roughly $24K.
The Prop Store is responsible for auctioning off some of the most iconic things in movie history and their latest auction has a gem up for grabs! If you have the cash – you can bring home the iconic hero axe used by Jack Nicholson in the 1980 Kubrick classic 'The Shining.' The starting bid is $24K and it is expected to fetch between $40 – $60K.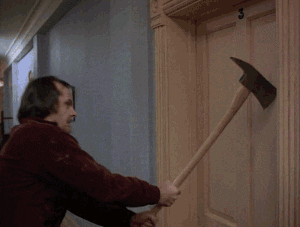 "Jack Torrance's (Jack Nicholson) hero axe from Stanley Kubrick's classic horror The Shining. Jack used his axe throughout the film's terrifying climax as he hunted his wife Wendy (Shelley Duvall), despatched Hallorann (Scatman Crothers) and memorably pursued his son Danny (Danny Lloyd) through the Overlook Hotel's maze, before freezing to death while still clutching the axe. An axe was also used in a flashback sequence showing the murder of the twins.
The terrifying images of the deranged Jack Torrance stalking the corridors of the Overlook Hotel resonate as vividly today as they did on the film's release. Jack's line from the film's most famous scene, "Here's Johnny", is a reference to the opening of The Tonight Show and its host, Johnny Carson, and is one of the most quoted in Hollywood history.
The axe, a true icon of horror cinema, is a custom made fire axe, that needed to be practical for the shots in which Jack broke down the apartment door and then the bathroom door in pursuit of Danny and Wendy. Wendy ultimately thwarted Jack's attack by slashing his hand with a kitchen knife, after which he retreated and went after his son.
This axe was purchased by a crew member at a sale of the movie's assets at the end of filming, along with other props, costumes and set decoration. It was specifically selected as the crew member involved needed an axe to chop wood at home. Fortunately, the axe was never used for this purpose, and has been kept safely for decades. It remains in excellent condition, with a few knicks and scratches present from use on Kubrick's notoriously long shooting days."
Dimensions: 90 cm x 29 cm x 2.5 cm (35 1/2″ x 11 1/2″ x 1″)