Evan (Seann William Scott) values family above all else, and anyone who gets between him, his wife, and newborn son learns that the hard way. But when it comes to violent tendencies, it seems the apple doesn't fall far from the tree.
BLOODLINE stars Seann William Scott (American Pie franchise, "Lethal Weapon"), Mariela Garriga (Nightmare Cinema, "Law & Order: Special Victims Unit"), Dale Dickey (Leave No Trace, Hell or High Water) and Kevin Carroll (Velvet Buzzsaw, "The Leftovers").
BLOODLINE is the feature film directorial debut of director and co-writer Henry Jacobson who was an executive producer of the critically acclaimed The Wind. So how did he come up with the idea for BLOODLINE? How was it pitched?
"A serial killer has a baby, and hilarity ensues." That was my elevator pitch for Bloodline, and that is where my co-writer Avra Fox-Lerner and I started. We asked ourselves; who is this man that can murder strangers while being a good father and husband? Could this person actually be good? Or is he just a monster hiding in plain sight? I don't know if the film answers those questions, but it definitely asks them." said Jacobson.
Jacobson definitely leans on the difficulty of becoming a parent for the first time and the challenges that await new parents. He took those basic principles and found a way to bring out a dark side while still being caring and nurturing.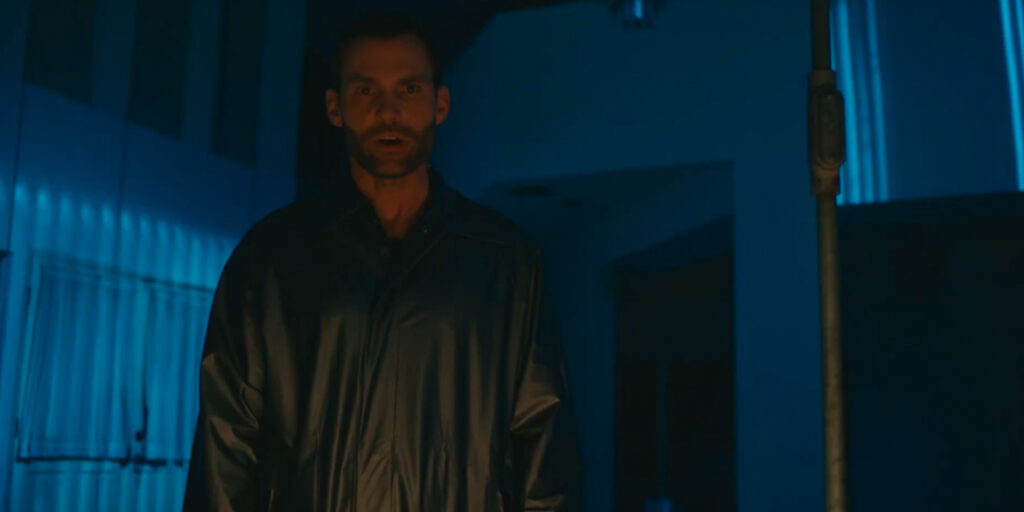 "The horror genre allows you to approach real life subjects obliquely, and Bloodline presented me with an opportunity to make a super fucked up movie about family, parenthood, and marriage that wasn't another heartwarming indie drama. When we started working on the script my wife was pregnant with our son. When we started shooting, he was six months old. There are a lot of horrifying things about parenthood, about family in general. There's a lot of fear; fear of losing your family, or of irrevocably fucking up your children in the same ways you were fucked up as a child, fear of confronting the darkest secrets – the unsaid things that every family (to some degree) hides from themselves and each other. I didn't want to make another serial killer movie about a psychopathic white guy who kills women. I wanted to make a film that embraces, even indulges in, the tropes of the genre – blood, seemingly gratuitous nudity, suspense, violence, even more blood – all while examining one of the most universal human experiences; family."
Jacobson went on to say: "I tried to turn every element of the filmmaking toward that end, to alienate and elevate with color and light, with incredible performances from the actors with whom I was so lucky to work, with sound, and score; portraying situations that almost anyone can relate to – which serves to heighten the horror of domestic banality, and forces the audience to look at their own impulses all while enjoying the ensuing bloodfest. Ultimately, Bloodline is about family, about the terror of parenthood, and about what lengths we'll travel to protect the ones we love. As Marie says, "we do everything we can to protect our sons, don't we dear?"
In theaters and On Demand and Digital on September 20, 2019.