Charlie wants tonight to be perfect. After a tumultuous first year, she and Simone plan to spend a romantic anniversary night together in their Brooklyn apartment. But after a traumatic call with her estranged and homophobic mother, Charlie realizes she's locked in her apartment and she's not alone.
As the night progresses and Simone doesn't return, Charlie slips in and out of memories as she fights to keep her grip on reality. But when a woman's voice in the wall starts taunting Charlie, the darkness closes in. Charlie realizes her only hope is to cling to the truth, or be swallowed up by the evil trying to overtake her and drive her completely mad.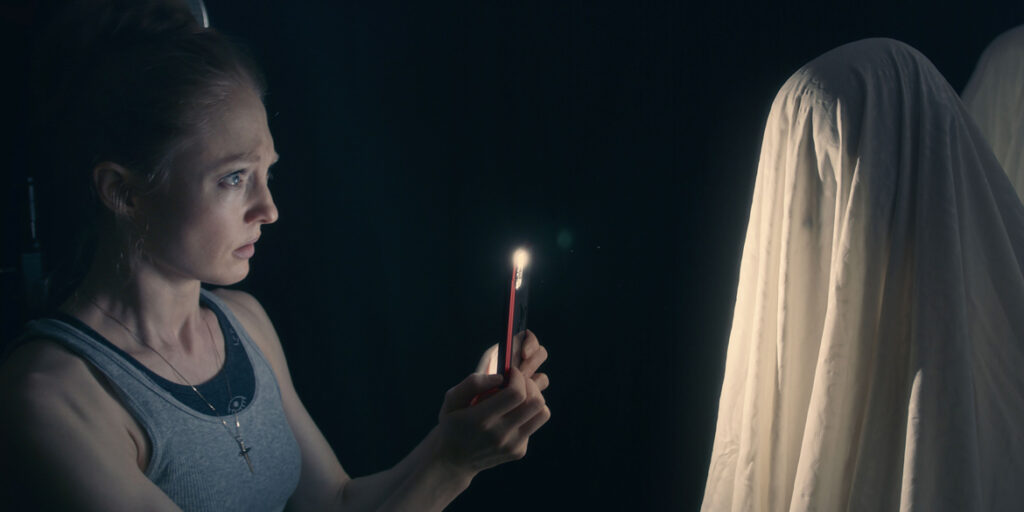 The film stars Emily Bennett, Emma Myles, Dora Madison and Barbara Crampton.
It was co-written and co-directed by Emily Bennett & Justin Brooks.
"We created and filmed alone with you entirely during quarantine. Our goal was to bring you the horrors of the pandemic and what we were feeling without ever directly referencing the very real horror happening outside our door. Rather it was the feeling of isolation and loss of identity that intrigued us. The anxiety of being trapped and ripped away from the people you love felt evergreen. Being left only to your worst inner thoughts and insecurities felt truly universal and so we went to work." – directors Emily Bennett & Justin Brooks.
'Alone With You' is in theaters February 4, 2022 and On Demand, Digital and DVD – February 8, 2022.