The sun was shining bright on the Ontario Convention Center, home of CreepIECon 2023 since its debut in 2022. With sun and spirits high, the line weaved and stretched its way around the building. By the looks of it, you couldn't have guessed that this was only the convention's second year. VIP badges sold out a month before the convention weekend, and weekend passes sold out just a week before, with Saturday tickets going just two days later. Not only did they put the 'IE' in CreepIECon, but— by the looks of it— they took the (entire) IE to CreepIECon.
At 225,000 sq. ft., The Ontario Convention Center — compared to Comic Con's San Diego Convention Center at 2.6 million sq.ft.— sounds like a tight, cozy space; and yet there was no shortage of incredible vendors, folks, and fun!
Browsing and perusing these rows were the inhabitants of a whole spectrum of horror fans— with booths tailored to each and every one. From booths with decades-old collectibles for the nostalgia-nerds; to sections filled to the brim with extreme, hard-to-find (and often hard-to-watch) horror films for those with a specialized palate; to cute-ified slashers and monsters for those with an equal love for horror and murder, and pink and glitter— there was absolutely something for any and everyone.
Children in Chucky costumes roamed the aisles, hand-in-hand with their parents; pointing out crocheted Pennywise dolls and Ghostface t-shirts they desperately wanted. Couples, groups of friends, big families, small families; they all made their way in and out of grid of vendors and artists.
It is amazing to see the creativity, just in the sheer range of what people can horror-fy. In addition to the expected pins and patches; stickers and apparel— there was a bounty of incredible businesses from and for horror fans to choose from. With over 150+ vendors, the skill and dedication to their craft from each and every one was undeniable. All of the vendors present were clearly in their element, doing what they love, but these are just a few of my personal favorites from this incredible weekend.
Pins. Stickers. Keychains. Patches. Lightboxes. All bursting with vivid, neon color. One-of-a-kind, eye-popping horror merch that you cant miss!
Producing some of the most impressive and dazzling, handmade 3D pop art pieces I have ever seen, Mark Chavez is truly a master at his unique craft.
Stunning and detailed art of some of your favorite killers and icons painted onto weapons ranging from knives to chainsaws. Or as the artist himself puts it, "I paint scary shit on scary shit."
Intricate, distinctly striking pins of some of your favorite horror menaces. From the classics like 'The Exorcist' and 'A Nightmare on Elm Street', to newer, niche films like 'Possessor' and 'Lamb', the detail in each of these pins is mesmerizing.
Sort of like when you would make your own bead art as a kid, except a million times cooler. Portraits that will make you double-take upon realizing it is not a picture. Your own 16-bit art piece you can stare at for hours.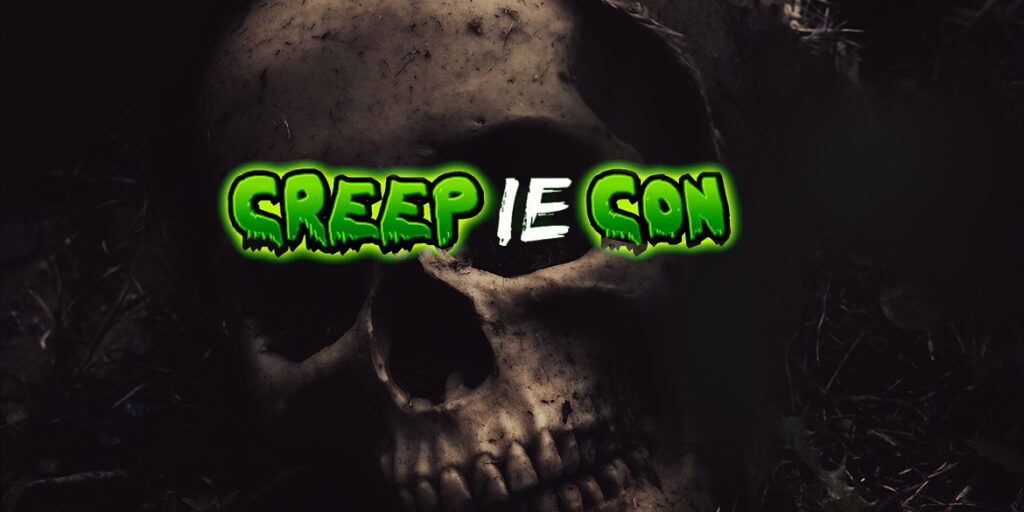 In addition to all of the genre-loving vendors, right across the main corridor was a smaller not-necessarily horror-related room that functioned as CreepIECon's own personal Delorean. CreepIECon's arcade was a nostalgic trip back to the 80s and 90s, even for those born way after the end of the millennia. Almost intrinsically intertwined since their early beginnings, the room combined horror culture and nerd culture to create the ultimate play space for kids and adults alike. Tiny hands button-smashed at Street Fighter, while just a few feet away the veteran hands of a ex-arcade regular clicked away at a pinball machine like he never stopped. A table covered in video game collectibles; magazines littered the floor underneath. E.T in a basket sat beside a decommissioned phone booth, and both next to the replica of someone's parents' basement in the summer of 1989. The room was small, but the life within it filled every square inch.
For those who weren't able to catch this convention's sophomore effort this year, you'll be glad to know that the convention will be back in just a few months! Taking place Sept 23-24 CreepIECon is bringing a brand new fall event titled Creep I.E. Aftermath to the Ontario Convention Center. Described as "where horror and pop culture meet" come kick off 2023's Halloween season at the newest and coolest addition to the horror-con family!
In even more great news, the dates for next year's convention have also been announced: taking place the first weekend of Feb 3-4. Vendor and ticket information will be coming on soon, so make sure to follow them on Instagram to keep up with the latest news.
See you there next year!